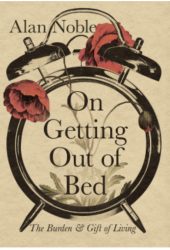 On Getting Out of Bed by Alan Noble is a book very simply about mental health. The author shares his journey with mental health struggles. He's very open about his struggles and I was very impressed with his practical suggestions for helping those who struggle.
Who is this book for?
I started this book and quickly realized that this book was written more for those struggling with mental health issues. As a person who has struggled with extreme anxiety brought on by medication and other physiological/ health issues, I am currently not struggling. HOWEVER, though it is intended to help those struggling this book would also be incredibly helpful for those who LOVE those with mental health struggles.
So often we don't understand how to help those we love who are struggling in these hard places. This book answers a lot of the questions we have. Another area I really appreciated that this author dealt with is the misuse of mental health to manipulate situations. He speaks directly to those who are prone to do so and does so in a very candid way.
This book was really very helpful. I will be going back to this book again and again and I will also be buying a hard copy of this book so we can easily reference this book! I highly recommend this book!
You can purchase your own copy of On Getting Out of Bed here.
I received a free Kindle edition of this book for reviewing purposes from NETGalley. I am in no way expected to give a positive review and these are my own personal opinions.
You can check out more of my book reviews here.