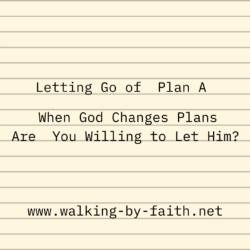 PLAN. That is what I do. That is what God has created me tone good at. I own a few planners. I keep a detailed planner for our family's everyday adventures. Even in 2020 when the world was planning NOTHING I still kept a planner and turned it into a journal of sorts, to remember what we cam through together as a family.
Planning is a good thing BUT we cannot let our plans control us. We Must be FLEXIBLE! Hubby made some statements about that in his sermon this past Sunday! There is a part two of this blog post coming soon so I don't want to get to ahead of myself.
The Back Story- The Root of Plan A
For a few years now I have been holding onto this Printable from Life Action Ministries (You can find the printable by clicking the Link above) called Put Off Put On. Each Day has a habit / attitude or action that is unbiblical that you put off and a Biblical one you put on. And for a number of years I have thought that when I did the study that I would s make it into a blog post series. It really was set up perfectly for that.
Putting Plan A into Action
Well fast forward to December of 2020- I found myself in a state of confinement to a couch and small spare bedroom in our house. I could barely move I was in so much pain but it gave me a lot of time to think and pray. As I did that plans began to form for the year 2021. and Put Off Put On found itself top on the priority list! It even made it's way into the blog planner for each week and on January 1st it became apart of my morning devotional time. I finished the first week and I sat down to write the blog post- nothing- not one single thing.
All the while my other parts of my study and reading were fitting together and I was making some neat connections there just wasn't words for my plan. I said ok Lord I'm going to keep going and just study and read these verses and contemplate the contrasting actions and virtues.
Two Days Left- I let go of plan A a Month ago.
So here I am, two days left in what I thought was going to be a need series of blog and posts and I am writing about how I have had to let go of my plan to make it so. By Wednesday I will have completed 55 days of Putting off and Putting On. I have grown through them but no words to share with you but these.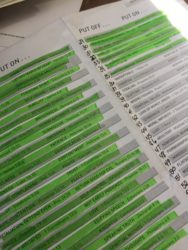 I make lots of "great" plans but rarely do they turn out the way I think they should. I could just throw up my hands and say I quit. I will NEVER do or try tat again. There are many times I could have quit blogging because things didn't go as I have planned. But we are commanded to persevere- to not give up so easily.
Some of the greatest moments in my life came as a Plan B- I had a mentor in college who so wisely taught me to invite God into my plan A, Give it to Him and be Ready for Plan B- God's Plan. When I am flexible with my plans God forms them into his and amazing things happen.
Plan B Christmas
Every year for Christmas I try to make it as fun and creative as possible because as a full time ministry family the holidays aren't "normal" (And I can hear all of my sweet friends chanting "Normal just a setting on the dryer") Well this Christmas I knew I had the greatest gift ever- Quarantined Life! so I planned all these cool things. I actually made the advent calendar that has been sitting in my closet for YEARS and painted it and filled it with all these amazing family activities. And then I woke up on December 8th and was rushed off to the ER for what would be 4 hospital visits in 3 weeks.
I cried all the way to the hospital on a couple of this trips feeling like I had ruined Christmas for the whole family. This was a different sort of Plan B than some silly set of blog posts not being written This affected our entire family. And Hubby and the kids were scared- I massacred because nasty words were being thrown around at the hospital like "tumors" and "cancer". I can tell you right now as of this moment there aren't any tumors and there never was any cancer- but things didn't "look" right and some nurses spoke out of turn. My kids had to see me the sickest and I the most pain I had ever been in ….Including 4 births and a gall bladder issue. THAT was NOT my Plan A!
Hindsight into God's Plan
God's plan B had been put into full swing- And I had t sit back and let hubby do most of it and he did awesome. I was so proud of him. And my friends- the ones who really knew me and really cared spoke words of truth into my life and my heart. They were superficial words. They weren't pat answers- they could do that because they knew me and my heart. Through God's plan B they had an opportunity to minister to my heart.
And our kids-wow! Our kids are so ministry minded to begin with my their acts of service to me was beyond what 10 to 15 years olds should do and yet they were amazing and we watched them grow so much through all of this.
Getting Mixed up
I think sometimes we get confused about the difference between perseverance and stubbornness is . Perseverance is being faithful even when things don't go our way and being stubborn is doing our own way even if God is saying no, not yet- or just plain no.
He doesn't want us to like that little boy with his trucks or that little girl with her dolls who don't get their own way….we've seen it play out many times on TV or in our backyards….they are my______ and if we don't do it my way I'm gonna pack up my_________ and go home. He wants us to trust him that HIS ways are better than our ways. He wants us o be a part of his amazing plan not just have hime be a part of our mediochre plans.
I want to challenge you just Like Ma Parker did for me to take God all of your plans and ask him to make them his plans and to help you to be aware and flexible for the changes he WILL make! Being willing to surrender your plans allows for great opportunity!
I will promise you that Plan B is always a bigger blessing thanPlan A- it may take a while to see it but with faith and trust God works miracles!
What about you…..What has been a Plan A that God has turned into an Amazing Plan B?
Stay tuned for Part 2 in this series.
Leave a comment