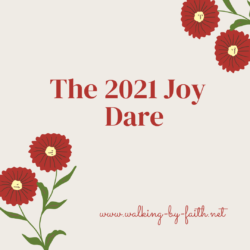 Good morning friends! When I stumbled upon this Dare back in December I was going through a time of real struggle when I was seriously having trouble being grateful. I found myself being grateful for the same thing over and over again. Coffee…..coffee…coffee…sunshine (not that there was much in December here in upstate New York) and a few other things. I'm not saying that it's bad to be grateful for the same things over and over again, but sometimes we have tunnel vision and we lose sight of all the other blessings God has given to us. And then I "just happened" to stumble upon this Dare while scrolling through Pinterest. I had already read Ann Voskamp's Book One Thousand gifts so I was intrigued. I checked out all the images and I was certain this is what I needed When I chose this challenge for this year I had no idea what the rest of the year held BUT God did!
Are you willing…..
So I want to ask you are you willing To take this Dare? The great thing is- you don't have to commit to the full year! You can just start with one month AND you can start Any time! It really is so simple and it changes your perspective! I Dare you to take this challenge~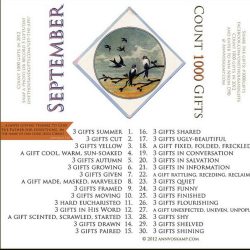 Day 17- 3 Gifts Ugly Beautiful
gloomy gray skies-so sad yet intriguing
broken lives changed by Jesus- amazing
Dying fields- turning brown- yet there is a beautiful fall aesthetic
Day 18- A Gift fixed, folded, freckled
fixed-Hubby putting LED light fixtures in my craft room
folded- clothes that are folded in the Cedar Chest for the future
freckled-Kiddo's #4's freckled face!
Day 19- 3 gifts In Conversation
Conversations with my prayer team this week
Conversations with our future Bible study leader
Hubby had a very encouraging conversation with a friend in ministry
Day 20- 3 gifts in Salvation
Grace
Hope
Peace
Day 21- 3 gifts in information
Books
Podcasts
Conferences
Day 22- 3 Gifts rattling, receding, redeemed
Rattled- my emotions this week as I have continually come face to face with some hard realities and broken relationships (not mine but ones of close friends-it's hard to watch)
Receding- a falling away- it hurts to see. it's painful to watch
redeemed- Countless stories that I can name right now where God took brokenness and turned them into something beautiful. He redeemed those moments for His Glory
Day 23-  3 gifts in silence
early mornings
Outside devotions
spare moments stolen away in my craft room
I'm so glad you came by for the Joy Dare this week and I'm praying You all have a fabulous week full of gratitude and Joy!
And how about You what have you found joy in this week?
For more Joy Dare posts click here and for more Choosing Courage Posts click here.
To Check out The Joy Dare and One Thousand Gifts by Ann Voskamp click here.
Leave a comment