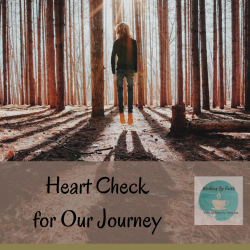 Heart Check-Up
Hello, Friends! It's been a couple of weeks since I visited my little place here on the Internet. Life has been crazy busy and well I got sick. The sickest I have been in about a year and a half. Actually, I was even sicker than I was with COVID a year ago. Since that sickness, I have been battling weariness. Not just body weariness but mind and soul weariness. Why? I have no idea. I could speculate but I just don't know- and this morning pulling my head from my pillow I felt a heaviness that was once familiar but hasn't been around in some time.
I got up and headed to church as is the routine. I had no idea what today would hold. I grabbed my pre-packed bags and was off. I got to church, made my breakfast and coffee, and plopped into the chair. I had spread out before me my planner, my journal, and my phone. I chose to not open the journal but the phone. I scrolled through YouTube, Facebook, and a game (or two). and yet nothing held my attention.
I took the last bite of my bagel took a deep breath and cracked open my journal to the first blank page after the last well-inked page. I began my prayer: Good Morning Lord… and for two pages I poured my heart full of the struggle of my heavy heart. I ended by asking for wisdom for all the things. I closed my prayer, turned the page, and wrote James 3:1-12 across the top. As I wrote the words of that passage across the pages God did something in my heart. A heart check-up of sorts.
The Journey
We are all on a journey. Every day is a journey. Each week is a Journey. Those days and weeks combine together to create an even longer journey. The same with months, years, and decades. My journey (as does yours) has many twists and turns and characters to join us on our way.
My journey, thankfully, has God sometimes carrying me through the dark shadowy mucky woods where an ROUS is surely going to pop out at any time, and other times walking hand in hand through sunny meadows, never leaving me or turning his back on me. Sometimes I forget God because I have become so busy, too task-oriented, or just plain self-centered to see that God has turned down a different path. I'm so busy checking off my to-do list and making sure my ideals are being upheld.
On my journey, I have friends and family. We will walk together for a time. Soon my children will start taking their own journeys. I will be with them in their hearts. Hubby and I are lifelong traveling buddies. There have been times when God has had to carry us both at the same time, and he can because he is all-powerful! Our journey leads us to places of ministry and away from places of ministry. Our journey will have homes and workplaces. They may be for a lifetime or it may be an actual physical journey as well.
Our journey has had pits of illness, disability, learning struggles, abuse, and trauma. It has also had mountains of joy, gratitude, and blessing.
My Heart Check on My Journey this morning (and where it's going to take us here on the blog)
James 3:1-12 is all about the tongue. As I wrote each word it sent arrows right to my heart. It answered the struggles I'm having with Shepherding a Child's Heart (a book). I won't go into the struggles with the actual book because that's not important at this time. Instead, I had an AHA moment…Here's what I wrote in my journal this morning.
I'm still a child. At 43 years old I'm still a child- God's child and he is in a constant state of shepherding my heart. On this journey, I still need to do heart checks because I have not arrived. I am not perfect. I will need to do heart checks until my dying day.
So what is a great heart check? My speech. Matthew 12:34 and Luke 6:45 tell us that the condition of our hearts is revealed through our speech! That James passage says that both good and bad water cannot come from the same spring (vs 10-12).
I have so many thoughts and comments on James 3:1-12 so we are going to journey through this passage together. So welcome to the Heart Check series. A lot of what we are going to talk about comes out of the James 3 passage because our speech is our biggest heart revealer.
What's Next? James 3 in light of our kids! Hubby and I have been teasing out some interesting thoughts over the last few days and I cannot wait to share them with you.
Let me ask you this…
Does God publicly humiliate anyone in Scripture?
Does God call people out. for their sins in a public setting?
Does Jesus ever say "suck it up and deal with it?"
Did Jesus talk badly about people to others?
Then why as Christian parents do we choose to do these things to our kids? As we look at James 3 in light of our children we will also look at the passages we are called to be to them! Don't get me wrong sometimes we need help, goodness knows we certainly have. Thats where our hearts come in. What is driving what we say about our kids and better yet HOW ARE WE SAYING IT?
I will see you here for our next Heart Check!