Settle My Soul
Settle My Soul: 100 Quiet Moments to Meet with Jesus By Karen Ehman and Ruth Schwenk Is a Pressing Pause Devotional published by Zondervan. Each 2-3 page devotional hits you right where you are at. They are skillfully written and definitely encourage the reader in their everyday walk with Jesus!. The quality of the book is great and the cover is beautiful (though I will say it got kinda dirty).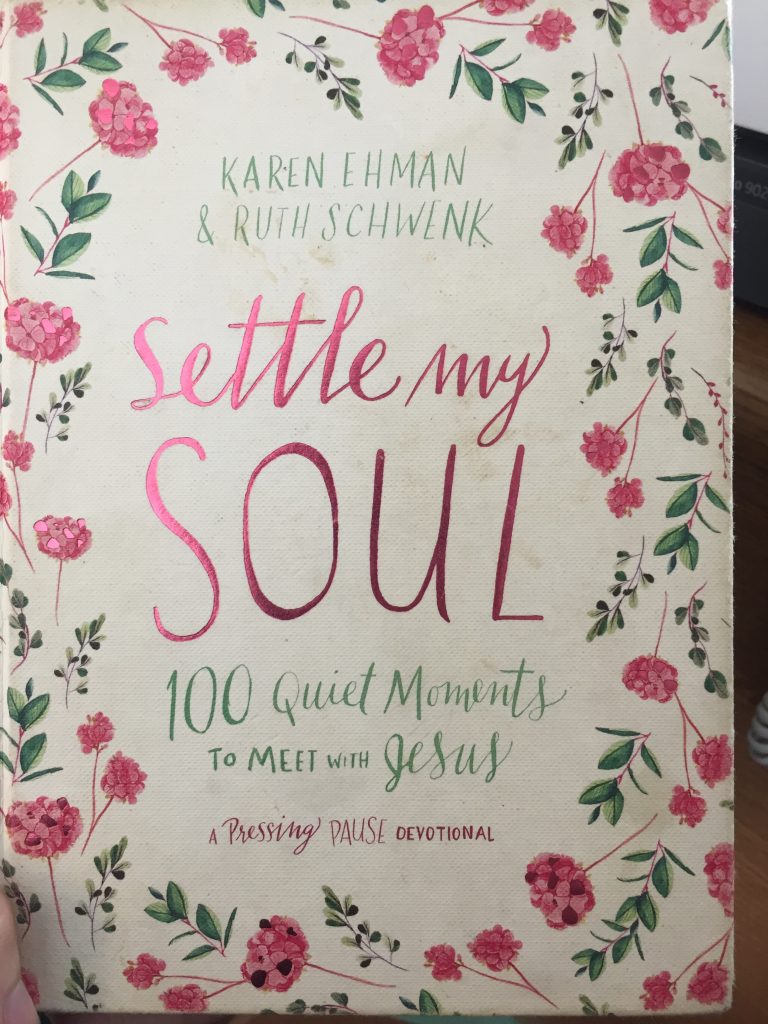 I know the picture really doesn't do it justice BUT people the title in PINK foil lettering. Also included is a lovely sage green ribbon bookmark. And the Paper. At the end of every devotional, there are a couple of questions and some lines provided in which to answer. Can I just tell you, the paper is Thick. I don't think I had any bleed through or shadowing. It's a great size and very portable!
There were a few of the devotions that really stood out to me:
Day57- "God Call's us to love our neighbor, but first we must notice them and get to know them."
Day 66 entitled " would you follow you" starts out with this statement, "Friendships are not optional in the Christian life. they are necessary for sustaining us through all that life throws at us.
Day 79 (Driven to distraction) "He invites us to hold up our too full places up to Him, allowing him to scrape off any activities that aren't in His will. This lets us say no to multitasking and begin to focus on the things God may have for us."
Day 86 (Putting on Patience). There was nothing specific in this one it was the whole thing that just deeply resonated with my Soul.
This is just a tiny sampling of what this book holds.
My Soul Review
When I got my hands on this book back in April, it was exactly what my soul needed. My soul had been depleted. we were in the last few months of school and I have to be honest we as a family needed some deep soul rest. We are hoping to get that in the coming weeks but I was really struggling with near burnout and ministry exhaustion. This book met me where I was and really helped to feed my soul exhaustion.
I only really have one complaint and that's that the book did get dirty but that's more my fault (I haul my books everywhere) and it seems to wipe clean, unlike some other books I own.
So I give this book 5 out of 5 stars!
Also a big thanks to BookLook Bloggers for providing me with a free copy for review. These opinions are soley my own and I have NOT been paid for a positive review.
Interested in reading other book reviews? You can check out my other book reviews by clicking here.