Howdy
It's been a couple of weeks since I was able to join you all last!  A lot has happened, the biggest of which was our septic system BIT THE DUST!  it was an interesting week and a half and we still have a 20 ft hole in the back yard as we wait for hit to be fixed!   then  3out of the 4 kids finished school and we had all of the fun end of the school year events then in the midst of all that, I came down with strep throat!!  YIKES!  and no one else had it, nor has anyoneelsp caught it!
The weather:::It has been gloriously HOT!  after my gallbladder surgery I have been cold…constantly…Even in temps that I would normally be warm I have done hoodies and sweatpants! So the sun and warmth has been a very welcomed blessing
On my reading pile:::   Let. It. Go. 1000 Gifts Unglued and The Turquoise Table
Movies or Shows I watched this weekend::: Food Network Star Season 11
On my TV::: My Favorite Martian
On the menu for this week:::
Monday Salad and Sandwiches
Tuesday- Tacos
Wednesday – Chicken Broccoli Rice Bake
Thursday- Mashed Potato Sundaes (Have no fear I heard your plea and guess what tomorrow the recipe
you have all asked for will be posted)
Friday-  Pulled Pork and Pasta Salad
Saturday-Pizza
Sunday- Meatloaf and roasted potatoes
On The To-Do List::Oh where to start!  there is so much going on.  We are in the midst of re-arranging Ladybug's room.  I also have to clean of my two desks.  Yep can't use either one.  Laundry and some reading to catch up on.
What I am sewing, crocheting, knitting or creating:::  nothing. I have three large sewing fixes I need to make
Happening this week:::Youth group, a dentist appointment, a couple of bible studies and other general weekly tasks
Looking around the house:::  General cleaning and straightening, a craft room that needs organized, 2 desks that need desperate attention and some laundry
From the camera:::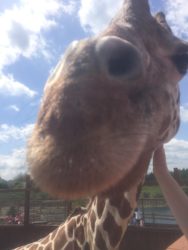 Why Yes that is April the giraffe and she is one of the sweetest animals I have ever met!
What I'm wearing today::: Brown shorts and a green Camp shirt and flip flops
One of my simple pleasures::: Reading outside! in the sun
Bible verse, Devotional:::
50
I declare to you, brothers and sisters, that flesh and blood cannot inherit the kingdom of God, nor does the perishable inherit the imperishable.
51
Listen, I tell you a mystery: We will not all sleep, but we will all be changed—
52
in a flash, in the twinkling of an eye, at the last trumpet. For the trumpet will sound, the dead will be raised imperishable, and we will be changed.
53
For the perishable must clothe itself with the imperishable, and the mortal with immortality.
54
When the perishable has been clothed with the imperishable, and the mortal with immortality, then the saying that is written will come true: "Death has been swallowed up in victory."
55
"Where, O death, is your victory? Where, O death, is your sting?"
56
The sting of death is sin, and the power of sin is the law.
57
But thanks be to God! He gives us the victory through our Lord Jesus Christ.
58
Therefore, my dear brothers and sisters, stand firm. Let nothing move you. Always give yourselves fully to the work of the Lord, because you know that your labor in the Lord is not in vain.
1 Corinthians 15:50-58 NIV
For More Happy Homemaker Posts Check outDiary of a Stay At Home Mom
1 comment