Happy Homemaker Monday Everyone!  Can you believe it is the last few days of October.  I know my mind is completely jumped past Halloween and Im in full swing thinking about Thanksgiving!
The weather outside is:::: I must say that the dreariness that we have been experiencing has made me somewhat exhausted.   It been raining pretty much for three days straight.  It cool and very fall like.  I have very much missed seeing the vibrant leaves this fall It's what makes the gray days of fall bearable !  I love how the  gray skies make the bright foliage pop.  However this fall theist description I can give to you is that it looks like a very muddy fall watercolor painting outside!
On the breakfast plate this morning:::: Hahaha I am not a breakfast eater at all.  I had coffee and two pieces of bacon at 6:30 and then normally -today was no different I eat brunch around 10:30 or 11
As I look outside my window::: WET SOGGY GRAY that is all
Right now I am:::: I just let the kids in after they got off the bus.
As I look around the house:::: Weekend mess.  I will whip it into shape this evening but this morning I spent preppy our church play.
On today's to do list:::: I had to get the play thing figured out.  Every time I have pursued a play option the door closed.   Now I have landed on a spectacular option and the details are all falling into place
Currently reading:::: Less Than Perfect by Ann Spangler (My review book)Courageous Creative by Jenny Randle (half way through the study!!) Jesus Calling and the Bible
On the TV today:::: Wild Prairie Rose
On the menu this week::::
Monday –  Tacos
Tuesday –  Chicken Bacon Ranch Casserole
Wednesday – Pizza and a movie night with some friends
Thursday -meatball subs
Friday – Loaded baked potato soup
Saturday – chili and Biscuits
Sunday -meatloaf and loaded mashed potatoes
What I am creating at the moment:::: Well I have been kind of obsessed with water color painting.  I have tinkered with it for a while BUT now I am full blown addicted to learning
Favorite photo from the camera:::
: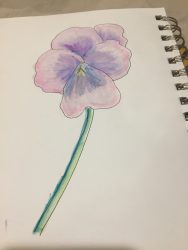 One of the challenges from last week  from Courageous Creative was to watch a youtube tutorial of how to draw something you have always wanted to learn how to draw. Mine was a pansy.  o used my water color pencils (still learning with those)
Prayers, Inspirational Quotes or Devotionals::::
Perfectionists fixate on making  flawless art, but our greatest pursuit is to find God's perfect Heart.
Jenny Randle Courageous Creative
Want to check out more Happy Homemaker Monday posts?  Visit Diary of a Stay at Home Mom!
4 comments