Happy Monday everyone! It's been a day but it's been a fun day for me. Hubby create a new workspace in my craft room. so I took today after my morning routine to set everything up.
♥♥The Weather♥♥ 
Today was another crazy snowy day here in upstate NY. We had a number of hours this afternoon that we didn't see a snow plow for hours and we couldn't see our road for even longer. It has been a fairly snowy year for us – more so that years in recent past
Monday – 28 and SNOWY
Tuesday –  36 with more snow
Wednesday – 47 SAY WHAT?? HEAT WAVE!!! (Rain)
Thursday –  29 (nevermind)
Friday – 35 it says we can expect a visit from a mysterious glowing orb in the sky!
Saturday –  40 and rain
Sunday –  44 partly sunny
With getting so little sun most of the winter it is so exciting when it shows up even briefly
♥♥How I am feeling this morning♥♥
Pretty well though a bit distracted I was having a hard time focusing on my devotions
  
 ♥♥On the breakfast plate♥♥
Bacon and egg white Bagel sandwich with coffee
♥♥On my reading pile♥♥
My Bile
The Powerful Purpose of Introverts
I'd Rather Be Laughing
The Silver Chair (Part of our morning basket for school)
Light in The Attic (Reading book for our 10 year old for school)
Lisette's List
Little Women (Listening while I do other things)
 ♥♥On my tv♥♥
Art Youtube tutorials

♥♥On the menu this week♥♥
Monday-Burgers and French fries and side salads
Tuesday-Loaded baked potatoes
Wednesday- Baked Ziti
Thursday- sloppy joes and potato wedges w/ mixed veggies
Friday- Minestrone soup and Sourdough bread
Saturday- Leftovers
Sunday- Venison roast with potatoes and Carrots
♥♥From the camera♥♥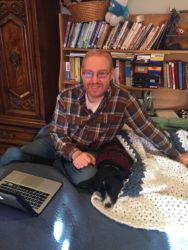 ♥♥Looking around the house♥♥
SNOW CLOTHES EVERYWHERE!!! Yep they were cutting wood and playing outside. When they get home we will clean them up.
     
♥♥To relax this week, I will♥♥
Finish reading three of the books on the above reading pile, make bread, and do some more deep cleaning (I jumped into the spring cleaning early.
♥♥Something I want to share♥♥ 

  ♥♥Devotional, inspirational, prayer list or Bible verse♥♥ 
1 Thessalonians 2:4-5 4 On the contrary, we speak as those approved by God to be entrusted with the gospel. We are not trying to please people but God, who tests our hearts. 5 You know we never used flattery, nor did we put on a mask to cover up greed—God is our witness. (NIV)
For More Hapy Homemaker posts visit Diary of a Stay at Home Mom
1 comment