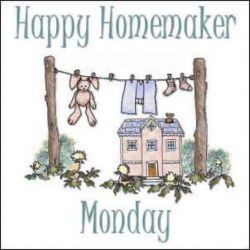 Good Morning friends and Happy Monday! I cannot believe last week just flew by! We find ourselves in full swing of getting ready for our upcoming move. We don't know when that is exactly because……that's life but we need to be ready in certain ways. And getting sick TWICE in March hindered those plans so now we need to get back into gear.
Thanks for joining me today!
♥♥ The Weather ♥♥
.So this week we get to experience the full spectrum of what sprig REALLY is like in central NY. We have temps today with a HIGH of 18 and then by Thursday, we will be in the mid- 60's. we will have everything from snow to good old thunderstorms and hopefully, a bunch of sun mixed in!
♥♥ As I look outside my window ♥♥
SNOW- Can't even see the mountain behind our house. Give it a few minutes and the sun will be trying desperately to peek out…
    ♥♥ Right now I am ♥♥ 
At the kitchen table with my Bullet Journal and pen by my side. I have to keep taking breaks from this blog post to jot down all the "things to do" running through my head. There is so much to do!!

♥♥ Thinking and pondering ♥♥ 
SOOO much. I guess the biggest two things are my ever-mounting to-do list. Both school-related and house-related. And then blogging ideas that seem to be running free. I can't seem to keep on top of the ideas. I carry a notebook with me EVERYWHERE!

 ♥♥ Homemaking tips ♥♥ 
As we plan to "live " in our camper as we transition to working on our new home (that will hopefully happen at the end of the month) I have created a four-week rotating menu. Thankfully we will not be limited by minimal electricity/ Fridge/ Laundry and the like. I just needed to create a simplified menu that eliminated the brainwork I usually invest in it each week.

♥♥ How I am feeling ♥♥
I think that because of having COVID it hurt my immune system (As if I didn't have enough trouble!!). The Doctor who monitors my IVIG said that's probably why my numbers are lower so I have managed to struggle with a bunch f stomach issues. I have also been dealing with some longtime stress. Not a bad thing but it can be for sure mentally draining at times. So As I have worked through some of that stuff over the last few weeks I have been in the process of laying boundaries for myself and creating a series of checklists for myself that takes away the trying to remember certain things every day. It has helped for sure
♥♥ On the breakfast plate ♥♥
Cup of coffee and some toast
♥♥ On my reading pile ♥
Finishing the book of John
The Life-Giving Home
Guilt
Hello Fears
♥♥ On my TV ♥♥
Nothing really but I'm listening to the Mom to Mom Podcast and some books on my Kindle app
♥♥ On the menu ♥♥
Monday – Soup and salad
Tuesday – Make Your own salad bar
Wednesday – Tacos
Thursday – Sandwiches and salad
Friday – Ribs and mashed potatoes
Saturday – Tater Tot Casserole
Sunday –  Baked Ziti
♥♥ From the camera ♥♥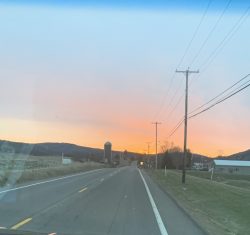 ♥♥ Looking around the house ♥♥I
BOXES UPON BOXES
♥♥ To do list ♥♥
All the normal stuff…dishes, laundry and the like but Also packing, I also need to prep for my meeting tomorrow. Daily reading and general end-of-quarter stuff for school.

♥♥  Prayer List ♥♥
Chruch friends, family, and friends who are struggling. Ukraine.


♥♥ Today's Devotional ♥♥
"But if you remain in me and my words remain in you, you may ask for anything you want, and it will be granted! When you produce much fruit, you are my true disciples. This brings great glory to my Father. "I have loved you even as the Father has loved me. Remain in my love. When you obey my commandments, you remain in my love, just as I obey my Father's commandments and remain in his love. I have told you these things so that you will be filled with my joy. Yes, your joy will overflow! This is my commandment: Love each other in the same way I have loved you. There is no greater love than to lay down one's life for one's friends. You are my friends if you do what I command.
I no longer call you slaves, because a master doesn't confide in his slaves. Now you are my friends since I have told you everything the Father told me. You didn't choose me. I chose you. I appointed you to go and produce lasting fruit, so that the Father will give you whatever you ask for, using my name. This is my command: Love each other."‭‭John‬ ‭15:7-17‬ ‭NLT‬‬
For more Happy Homemaker Monday posts Check our Diary of a Stay At Home Mom