Greetings and I am so sorry this is LATE!  What a weekend this has been and boy was I exhausted by the time I hit this morning.   Seriously though let's get going before I get side-tracked by something else.
Breakfast time….what is on the plate this morning:::: Nothing really I wasn't really hungry
Looking around the house:::: YIKES!!  We are doing some re-arranging , including putting our living room back in order!  Yes hat means the Christmas tree MUST come down tomorrow.
On today's to do list:::: Get this blog post done.  I have some other late correspondence as well that I need to catch up on
Currently reading:::: Meet the New You and my new review book for the monthHello Mornings
On the TV today:::: well we watched Family Matters during lunch and the Brady bunch
The weather outside is:::: ICK…snow again, but it is not as cold so possibly not as bad as the last Happy Homemaker post.  I will admit though I'm in desperate need  of some legit WARM sunshine.
On the menu this week::::
Monday-
Tuesday- Meatball subs
Wednesday- Tortellini Soup
ThursdayPhilly Cheesesteak Sloppy Joes (Yeah I found that yumminess on Facebook)
Friday-Grilled Cheese and soup
If I have a few minutes to myself, I will:::: NAP  (and yes I did)
New recipe I tried, or want to try this week::::  See Thursday!  Philly cheesesteak Sloppy Joes
One of my simple pleasures:::: coffee in a cute mug
Favorite photo from the camera or internet:::: I have two!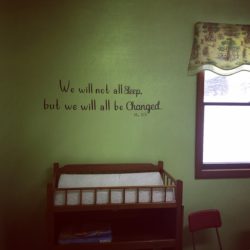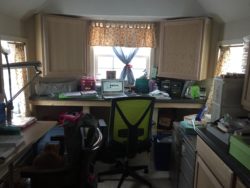 This is the project I worked on with another lady at church yesterday.  it was fun but we learned some ins and outs of Cricut design space..LOL.  and here is a quick snapshot of my new space hubby created for me as part of my Christmas present.  I LOVE IT!
Praying for::::  Family in So Cal. Friends and family going though some tough stuff! Church
Bible Verse, Devotional that is resonating with me at the moment::::
I am still SLOWLY going though Hebrews and I am almost finished with it!  Today I was in Hebrews 12:7-17
I am also Reading through the Bible chronologically  this year and I am somewhere in the middle of Genesis.  I am a few days behind and I will catch up easily over the next few days. The two oldest kiddos were challenged to do it in Sunday school so I have accepted the challenge right along with them!
I hope you have a great week and I will do my VERY best to not be late to the Party next week BLESSINGS!
For  more Happy Homemaker Monday posts visit Diary of a Stay at Home Mom