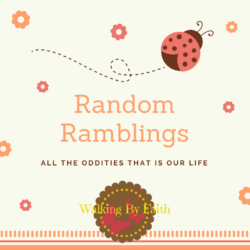 Ya know what, I cannot seem to ramble when writing.  (But I have zero trouble being random, matter of fact Hubby is amazed at my ability to be so random.). I know sometimes I might take a rabbit trail or two BUT to ramble, that's another story entirely.  I can ramble with hubby.  And when I am nervous, or when there is awkward silence.  I HATE AWKWARD SILENCE!. So What I have decided is to pick a couple of Random topics to share with you my thoughts on.  They will be things that have been on my mind.  Things I have been pondering.  So (drumroll please) it will now be called: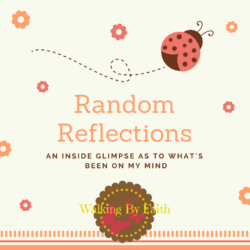 Random Reflection #1-Slow Starts and Being Flexible
This year has had a seemingly slow start, and I think that is a good start.  I am hungry though for a more normal schedule.  Things just keep getting cancelled and re-scheduled.  You know because of  randdom things like:
weather
sickness
scheduling conflicts
did I mention weather
Seriously though we have had two rather mild winters.  The kids had more snow days after spring started than they had the entire winter.  This winter we have already had a severe cold temps day – they missed school because it was -25 with the windchill. and it looks like something might happen tomorrow.  Im not heart-broken I LOVE snow days. after awhile though a lack of consistency starts messing with my head.  As I work through One Thousand Gifts by Ann Voskamp last year I have learned to look at the smallest things as gifts.  and that means schedule changes too.  I kind of look at it now as if God says you need time to….(insert whatever I am currently in need of at the moment in my life.
Random Reflection #2-New Planner Setup
I am still using  the Happy Planner (and I love it) But instead of doing a full 12 months I am Using two six months together.  Now I know what you are thinking , "Mary Mary Mary clearly you cannot do Math 6+6=12". Yes I know But The first 6 months of my 12 month planner and then a 6 month expansion pack – so each 6 month section runs January to June .  The expansion pack is a brainstorm I hadst I can keep my blog planner and regular planner all in one classic sizedHappy Planner.  It's taking a little getting used  to but I am beginning to  really get into it.
Random Reflection #3-Goal Setting
YIKES!!  I am soooo far behind it's crazy!  But this past year I was gifted the book Meet the New You by Elisa Pulliam.  I decided that I would work through this book and it is a "21  day plan  for embracing fresh attitudes and focused habits for real life change."  I have used some of her other materials in the past  and loved them and I even began to use those same ones again this year.  Now I don't really think  that there needs to be a whole lot of life change but I really wanted to be more focused in my goals, more concise if you will.  So I began this journey.  Wow can you say intense.  there is a lot of work even outside of the focused study questions.  The chapters are short BUT the work takes longer than one might think.
Thanks forechecking out my random reflections for this week.  What is something that you  have been randomly been reflections on this last week?  Share it here
Blessings.
Mary