Happy Monday Evening!! (Yay I made it!!)  It has been a few weeks but I am back.   My hopes were to get this posted this morning but hubby and I decided what my body really needed more was sleep..  Yesterday was rough.  I thought I was dealing with my head cold getting worse and it seemed as though I was battling a major sinus headache but in reality what was really going on was a migraine to beat all migraines.  And I know some of my friends who suffer from migraines sleep while they have their migraine BUT I have never been able to.  I sleep horribly and quite honestly it feels as though my brain is shaking in my head.  Weird right??  so after the migraine goes away I sleep A LOT!!
So Let's Get Happy
The weather:::.
COLD COLD COLD and snowy. the kids actually had a 2 hour delay this morning
As I look outside my window:::It's dark. BUT I know there is this blanket of cold white stuff EVERYWHERE!!
Right now I am:::
Writing this up, thinking about how much I want to sleep some more .
Thinking and pondering:::About this migraine- it was 8 months ago we made some changes in our daily lives.  Hubby and I used to suffer from headaches daily and we made these changes.  It is so rare for us even to experience a headache now.  wow this one kicked my butt and I am so glad it's over.
On my bedside table:::
I don't have a bed side table but I have shelves on the back of my bed.  What's there is hand lotion, some books , my  water bottle and maybe chapstick
On my tv:::
Malibu Dan the Family  Man  (a new David A.R. White Tv show on PUREFLIX
On the menu for this week:::
Monday – Meatball subs and fries
Tuesday – Homemade chicken Nuggets baked Potatoes and carrots
Wednesday –  Loaded Baked Potato Soup
Thursday – made at home subs
Friday – Mac and cheese with hotdogs (per a child's request)
Saturday – Pulled Pork and French Fries
Sunday –  (not quite sure yet) maybe lefts overs
On my to do list:::
this is a funny question!!  considering I spent most of last week battling a cold and a crazy weekend, and then the whole migraine and recovery I have a bunch to do.  I have laundry, some dishes, and various other things round the house.  I did accomplish to get some things done but they did not feel very substantial at all.
What I am sewing, crocheting, knitting or creating:::
nothing at the moment.  I am working on a hand lettering challenge this year But I am behind!
My simple pleasure:::
daily writing in my writing prompts I picked up at our local 5 Below store.  It has been stretching me as I force myself to fill in ALL the lines!
Lesson learned the past week:::
Do NOT lay on the floor when you have a horrible headache, especially if there are kids running playing a game.  Let's just say I needed second Lunch.
Looking around the house:::
eh….what can I say it could be SOOOOOOO much worse!
From the camera::
:
Prayer List:::
oh there are lots of big things right now friends and family recovering recovering from major surgeries.  A loved one with terminal brain cancer.  Friends with hurts that run so deep that only a Heavenly father can heal!
Bible verse, Devotional:::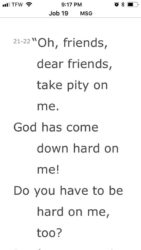 For More Happy Homemaker Monday Posts go check  out  Diary of a Stay at Home Mom