Happy Monday Friends.  It's been two weeks already!  Wow!  Last week was CRAZY!  And it went out with a bang.  Both on a great note and on a not so great note.
More about that in a few minutes .  I can't believe it is the end of February already.  This year is flying by!
So let's get started with the last Happy Homemaker of February
The weather:::.
The next few days are really supposed to be very spring like! (I am so excited!!)
As I look outside my window:::
I see brown. Mud. ICK!
Right now I am:::
Listening to my husband as he watches a movie I recommended.
Thinking and pondering:::
how long my poor kiddos will be tossing their cookies
On my bedside table::: pens and a journal
On my tv:::
Champion
On the menu for this week:::
Monday – Chicken and Pasta
Tuesday – chicken Tortellini Soup
Wednesday – Pork BBQ and potato Wedges
Thursday – Mc & Cheese
Friday –  Chili
Saturday – Grilled Cheese
Sunday – Salad (for fellowship dinner)
On my to do list:::
the kitchen needs a deep deep cleaning, laundry, my bedroom needs straightened
What I am sewing, crocheting, knitting or creating:::
My newest Cricut project is a coffee mug with vinyl on it that says "Coffee is my Love Language"
My simple pleasure:::
Reading outside and I am definitely hoping to do some of that this week
Lesson learned the past week:::
I still can pull an overnighter with the teens.  No movies and no sleep.  I love them.  and this time I didn't have anything crazy to do afterwards so I came hoe and slept.
Looking around the house:::
I have a whole bunch of work that needs to be done pretty much everywhere .  and the sick toll has reached four. Me and Hubby are over it  and Child 1 and 3 have it now.  With each person it seems to change slightly.
From the camera:::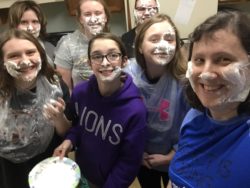 Just a snippet of the youth group overnight
Prayer List:::
Friends Family and church members who are sick and/ or going through Hard times
Bible verse, Devotional:::
Titus 27-9 NIV
7 In everything set them an example by doing what is good. In your teaching show integrity, seriousness 8 and soundness of speech that cannot be condemned, so that those who oppose you may be ashamed because they have nothing bad to say about us.
9 Teach slaves to be subject to their masters in everything, to try to please them, not to talk back to them
These are my verses to go with my word for the Year…INFLUENCE!!  I am trying to keep them forefront as I go about my days.
For more Happy Homemaker Monday Posts check out Diary of aStay At Home  Mom.