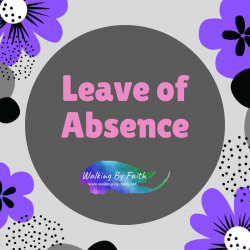 Why a Leave of Absence?
This was a question we got a lot t the beginning of our leave of absence. . Here are a couple of reasons
We have been serving 11 years without an extended break
we have just completed a very strenuous building project that took just under a year.
My dear hubby had pneumonia over the winter and fought through it to get the project mostly completed
There were some stressful things that happened that we still can't discuss
We were just plain exhausted and nearing the point of burnout
Those are just a few things in a long list. Those things took their toll. So at this point, we are two weeks in and I have learned a few things about hubby and me.
3 Things Learned in absence
Absence Makes the heart grow fonder (MOST of the time). We missed our people.
2. You can take the pastor out of the ministry but you cannot take the ministry out of the pastor- Hubby's heart is t seek people's spiritual growth and I could see that desire well back up in him. Sometimes though people's attitude can really wear down a pastor. Pastor really needs to remember you can lead your flock to water BUT you CANNOT make them drink.
3. Even when you go away you carry your people AND their burdens with you. It is not as easy as it sounds to just let things go. You have been praying and crying with these people for so long. It's hard to just "let it all go".
These are just a few brief insights and things I am learning in these 5 weeks off. How about you have you even had a season of stepping away from where God has called you? What did you learn?