Have you ever stood and stared and watched a sunset as it changes. It's like it's a living water color painting.  I love sunrises too and they are the same way.  But as of late I have been watching sunsets and pondering them.  Every sunset os different and there are Many factors that go into that. A sunset os very similar to life.  sometimes it's full of color and vibrant and other times it's dull and gray.    The one thing we know and can expect is that nighttime is coming.  I the Bible we are promised dark and hard times, but we are also told joy comes in the morning which as you guessed it is something else that beautiful. a sunrise.  the thing is that just like life if we don't take the time to soak up the beauty, we will miss it!  That's what I love about Happy homemaker posts is that it makes me sit down and think about all that is going on around me!  So let's get started!
The weather:::. Fall showed up on Saturday after quite the storm Friday night. But since then it has been bright and crisp.  The clouds started rolling in this afternoon and  now is overcast and ready to rain at any moment.
As I look outside my window::: I see my neighbors porch light and an occasional car whizzes by but other than that it is pitch black outside
Right now I am:::  sipping sinus soother tea and mentally  working on my #write312018 blog posts
Thinking and pondering::: about many things but I have really been pondering a challenge given by a speaker while I was at camp all by myself this summer.  My word for the year has been influence and it has been forefront in my mind but this speaker challenged up to write letters to those who have had an influence on us.   specifically ministry leaders who have poured into our lives so I have compiled my list and am preparing the preamble to those letters.
On my bedside table::: a whole bunch of books wanting my attention
On my tv::: nothing
On the menu for this week:::
Monday –  Chicken bacon Ranch casserole  (I tweaked the recipe so I could make it in the crockpot"
Tuesday – Meatball subs and salad
Wednesday – chicken pot pie (also in the crockpot- yeah we will see how that goes)
Thursday – grilled cheese
Friday – chili
Saturday – hayride 9there is dinner -kinda with that
Sunday – Hamburgers, salt potatoes and veggie
On my to do list::: well ya see I kinda made this mess, a VERY BIG MESS.  I kinda lost something and so I went on a hunt to find that something (with no positive outcome) and when I was done it looked like a tornado had hit the place.  Now I have to fix it.
What I am sewing, crocheting, knitting or creating::: I am starting on the curtains for my craft room this week.  I also have to sand and paint the trim and sills of my three windows in the craftroom. And I have a sign that is the theme thought for my room and that involves painting AND Cricut work.
My simple pleasure::: hot beverages.  I LOVE me some COFFEE but I also really enjoy tea and hot cider as well.
Lesson learned the past week::: oh I have two.  1) well on Sunday I was catching up from my missed devotions while I was away at a conference.  and as I read I began to see a pattern I a couple of different places waiting on God was forefront I my reading and then my secret sister gave me a cute ceramic pen holder with a very cute pink sloth on it and it says Take your Time.   Ok I get it.  So many times I think it should go on my time line and that I can fix it but in reality  I need to wait on God.  he has it all under control.  2). over the last month r so there has been some heavy stuff I have had to process through. and I have learned these last few weeks that sometimes you have to let go of self-imposed expectations and go with simpler disciplines and routines and build back to where you once were.  so That is what I have done.  I have gone back to my 3 minute morning routine I set up when I  read through Hello Mornings, and it has been a huge blessing.  Because God has met me in the simplicity and deeply fed my soul.  As much as I would like to say I am back to my old self , I can't.   ButI'm getting there for sure.
Looking around the house::: UMMM did you read what I wrote on the to-do list part??
From the camera::
: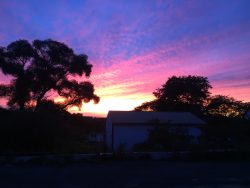 This was the sunset from behind our church Saturday night during youth group.  It's unfiltered and I firmly believe that we have some the best sunsets around!
Prayer List::: unsaved friends and family and I have a bunch of friends and family going though some really hard stuff.
Bible verse, Devotional:::
Isaiah 40:31
English Standard Version (ESV)
31 but they who wait for the Lord shall renew their strength;
    they shall mount up with wings like eagles;
they shall run and not be weary;
    they shall walk and not faint.
for more happy Homemaker posts check OutDiary of a Stay at Home Mom