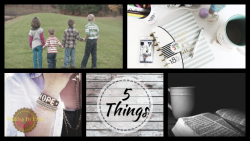 5 Things,That's what I'm calling it fo at t least now.  Each week I'm going to post about 5 things I have learned.  I have been compiling a list all summer long and honestly I wasn't quite sure what exactly what to do with this List..  I have been pondering it.  Basically these weekly 5 things posts are made up of tidbits.  Things that stood out while I was reading or listening to sermons or doing Bible study.
I really want to remember them and apply them. so each week I will share 5 from my list!  The cool thing is since I am constantly reading, studying and listening this shouldn't be too complicated to keep going!
So here is this week's five things!
Reading Scripture out loud gets it into your brain 3 ways
The point is th more you put in God's word the more you will gain more from it.  Reading Scripture out loud just happens to get it in 3 different ways! (Speaker from Bible conference)
2.  Tell God your dreams and ask God how to get there. (Can't remember where This one came from)
I guess I'm dense. No that's not it.  So many times in our Christian circles we convince ourselves  or we are taught the its not "Christian" to have dreams.  That we must die to self and I agree, There are time though that God gives us dreams and we spend time floundering trying to make those God given dreams happen on our own.  But that is just all sorts of insane isn't it?  God gives us those dreams wouldn't it make a world of sense to ask Him to show us how and give us wisdom, strength and courage to follow him through with it!   Sometimes our dreams aren't even really about us ( ok so they almost never are). They are about God.  He is writing our story in order to bring Glory to himself…..in a sense he wants us to make him famous! (Let. It. Go.)
3.When mentoring (or in life in general) don't ask questions that can be answered with a "yes" or "no". (Becoming a Woman of Influence by Carol Kent)
this was a concept I learned in counseling classes when I was in Bible College.  But sometimes we forget in our everyday lives, whether it's with our kids or people we minister to!
4. Even if there is nothing to apologize for do a random act of kindness for her.  (yep totally don't remember where this came from).  This is a fantastic.  I have never even really thought about this before, but what amazing advice and I really  watn to implement this in the future.
5. Schedule a whole day (or part of a day) alone with God  a week/ month, different from your daily devotions.  this is a new concept for me as well.  I LOVE THIS IDEA!!!   and I have picked a day!   I'm shooting for once month to start and to build up.   I have this desire to grow.  and as I have journeyed throughout my life I have continually had a desire to grow. and part of growing is being willing to try new things.  this is different for me and I am going to try!
So what 5 things have you learned over the last few weeks? Leave them in the comments below!