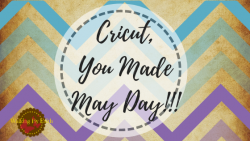 Do you know what a Cricut  is?
I remember the first time I saw a Cricut..  It was 2009 and I was sitting on a hotel bed in Nashville Tennessee flipping through the channels when my inner scrapbooker landed on the Home shopping network or QVC or something.  And I was drooling!  NO JOKE.  See I have this problem.  I cannot cut things out with scissors!  they look HORRID! Well Cricut is a paper cutting machine, except since that day nearly 10 years agao it is SOOOOOO much more than that!  Fast forward about 7 years I had what is called a Cuttlebug made by the same company and it was a compact die cutting machine and I used that baby all the time (still do) and I was hunting for some dies for it . (they were getting harder and harder to find in stores so I took to Craigslist.
A sweet older woman I called said she was getting rid of all of her scrapbooking supplies and she was willing to sell them for all one price or individually.   So we took a drive.   When we arrived to this woman small suburban home I was in awe when I walked in her front door to a room filled with everything imaginable  papercrfating wise.  there were about 20 scrapbooks, paper to last a lifetime a HUGE friskers case, stamps, punches ink, .  You name it it was there, EXCEPT all the cuttlebug dies had been sold.  I have to admit I was kinda frustrated.   she looked at me and said I bought all of this brand new hoping to start a new hobby but I just never had time.  I will give it all to you for $200. My jaw hit the floor.  Hubby walked in as I am stammering like a fool.
What's wrong? he said.
I explained
we talked about it it was too good to be true.
we decided to go for it as she said "don't forget the Cricut. I nearly died. Never in my wildest dreams.  I got home and lugged everything upstairs.  I began to calculate and realized there was well over $1000+  in product I was floored and severely overwhelmed.  I quickly realized though that I couldn't keep everything so I sorted and shared the blessing with others.
The downside with the Cricut was that I needed cartridges.  So I started collecting the ones I wanted that were on sale.   and the cool thing was that these image holding cartridges came with rewards points.  So I set up the account and started collecting them. 90 points here, 50 points there.  Yesterday I found a rogue  coupon from a cartridge soI hopped online to enter the code and collect yet another 50 points.
A few years ago I outgrew my Cricut I had ad hubby surprised me with one for Christmas…no cartridges needed.   you just upload your images you already had to design space and viola !
Well when I tried to get on the webpage it said there was an error, no sweat this has happened before! So I just called in.  Only to be told that Cricut rewards was no more.  I had not seen the email of this impeding shutdown.  I must admit I was kinda bummed because I felt like I had waster all those points (I estimated to the lady on the phone that I thought I had between 500-800 Points). She told me that they were honoring points on a case by case basis so she sent out a help ticket for me and that I would hear from her in the next 24-48 hours.
This evening I checked email and sure enough there was an email from the very mice lady who had helped me on the phone.  It said that I actually had 1,350 points which was enough points to give me Premium access for a YEAR!   That's huge deal!  That is all the images on design space.  I have complete access to them for an entire year!
They didn't have to do that.  I was late to figure out that they were closing the rewards program and yet they still  did.  I have loved working with this company on so many levels!  they fix their problems and they call or email prompt.
Last year I was working on a project and I bought a digital cartridge.  It was supposed to have 38 images but I could only access 12 of them.   I called them and I'm pretty sure the same very mice lady listened to my problem and then fixed it! and she called me back late the next day just to tell me it was all better!
What customer service!