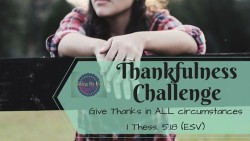 Welcome to this week's Thankfulness challenge!!  I'm glad you are here.  This is a wonderful time for us to share what we are thankful for in this sometimes crazy upside down world we live in.   Sometimes  it is very hard to find things to be thankful for, that's why I have called it a thankfulness CHALLENGE!
Well here it i the 19th of May, Can you believe it?
I can't it doesn't really seem like May after all it did snow on Sunday!
so as I have been contemplating on all day about what I am thankful for, God and I had this conversation…Ok I did the talking but you know what I mean…..it's actually the Number 1  thing I'm thankful for, and I was shocked as I uttered the words I am about to share with you…
I am thankful for…..
 The really hard things.  yeah I just said that  2 years the unthinkable happened/  I am not however thankful that it happened…that would just be all sorts of sick and twisted and WRONG.  However after journeying through it I now Have the opportunity to hold a friend up as she now finds herself journeying through that same nightmare.   I am grateful and thankful that God was with us every step of the way, and now I get to be that voice of truth in her life…that voice, that help that encouragement I soon longed after.  I will confess it is not easy to journey with her, but my pain, anger, frustration are NOTHING compared to what she is feeling.   God's got my mess.  I don't need to worry about that, but I can understand her pain and how she feels far deeper than most, and I won't let her alone in it.   My story does not end with me.  and her story will not end with her.  we are both world changers….we change the world through Christ one person at a time…..in hard times…and in silly times…..and in times when we have more people than there are staff 😉
a local crisis pregnancy center that shares the hope of Christ day in and day out.  It's beyond my comfort zone…..but it's a place of change love, grace and mercy.   I get the distinct privilege to watch God change lives, through me and through my friends.  we fight for these girls and babies, and kids in all of their messes (some are mighty huge)
For quietness…you say Mary you have 4 kids, three of whom are boys…and not just any bus, but "those" types of boys.   we have two volumes INSANELY LOUD and fast asleep.   so today I made a choice.  A choice to not to  go on a field trip with 10-12 kindergartners, and some 1st graders some other parents and siblings and a couple of teachers  I sent my hubby instead!  They had a ball and I had something I have experienced in quite some time…SILENCE.  I'm an introvert by nature.  Give me a book and a soft chair and silence  I will be re-charged. and life lately has been light speed, warp drive, go go go with nothing resembling  anything but a dull roar.  TODAY WAS GREAT.
My hubby.  My kids loving considerate, pastor hubby turned 35 yesterday. He gives so much of himself too many people and a lot of times all he gets in return in a whole lot of complaining.  complaining that something wasn't done to someones liking or not fast enough or……you fill in the blank.  so many people love to complain and yet when push comes t shove, they aren't willing to help, they are just willing to put their testimony  in a compromising place….for out of the mouth the heart is made known.   (Matthew  15:18)
a home, a place to call my own, a sanctuary..a place of peace and rest.  A place I can be myself……that is something special, not just for me, or my husband but for my kids as well…a safe place for them to stretch their wings…test out new things, a place to nat be made fun of, teased or picked on.  A place to grow.  This is not only important to our family but also to those we welcome into our home.
So here's the question, what are YOU thankful for this week? will you Take the THANKFULNESS CHALLENGE…leave your links in the comments!