Happy Monday everyone! I hope you have had an amazing week.
♥♥The Weather♥♥
COLD- tomorrow might count as a heat wave at a whopping 29 degrees. Don't worry as you will see the temps start heading south again by the end of the week  .
Monday – 21
Tuesday – 27
Wednesday – 22
Thursday – 22
Friday – 19
Saturday –  18
Sunday – 17
And we won't even discuss night time temps BRRRR.
♥♥How I am feeling this morning♥♥
Exhausted. And a tad discouraged finding it hard to get motivated
♥♥On my mind♥♥ 
   Learning- Sometimes the learning process exhausting. Being a responsible learner means you have to apply what you are learning. Sometimes when you are learning a lot all at once can make you feel like you aren't applying what you learn responsibly. Do you follow?
 ♥♥On the breakfast plate♥♥
Cold pizza. It was a rushed morning . And I just grabbed what was in the fridge   
♥♥On my reading pile♥♥ 
My Bible Friendship on Purpose reading plan
In His Image
I'd Rather be Laughing
The Silver Chair
The Powerful Purpose of Introverts
S. H. A. P.E.
Lisette's List
 ♥♥On my tv♥♥
Nothing
 ♥♥On the menu this week♥♥
 Monday – Venison Soup
Tuesday – Tacos
Wednesday – Chef Salads
Thursday -Stuffed meatballs with Mushroom Soup
Friday – Leftovers
Sunday  Baked Ziti
♥♥From the camera♥♥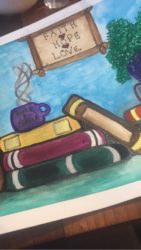 ♥♥Looking around the house♥♥
 General cleaning
♥♥New recipe I tried last week, or one that we really enjoyed♥♥
Nothing

♥♥To relax this week, I will♥♥
Read and write
♥♥Something I want to share♥♥
This year I have taken on bullet journaling for both my blog and reading. It gives me exactly what need because I choose what gets added and what doesn't.
♥♥Devotional, inspirational, prayer list or Bible verse♥♥ 
Today I was reading in James 5 an answer to prayer happened. I always think its amazing how when You ask God to give you wisdom and insight in growing in your faith . This was no different I have been on a journey of becoming a better pray-er and this chapter had some great insight for me!
For more Happy Homemaker Monday posts check out Diary of a Stay at Home Mom
2 comments