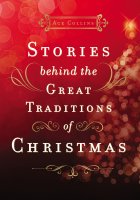 All about Traditions of  Christmas
What Christmas Traditions are your favorite?  Have you ever wondered where on earth we get the traditions we use when we celebrate Christmas?  You know, things like Christmas Cards. Advent, and Christmas trees just to name a few.  Well, Ace takes us back in time to the times and places that these traditions became an indelible mark on our holiday celebrations.  26 chapters you will learn about the history and heart behind each of these traditions!.  Ace definitely did a lot of in-depth research that left us with some very interesting facts.  The chapters are short and could easily be read each night leading up to Christmas.
Some of the interesting facts learned in reading this book :
Many of our Christmas traditions were started or carried on through the Vikings.   Especially since the Vikings had the reputation of being a brutal people group. But after the Vikings became Christians it became very important that they made remembrances of their faith.
Christmas Seals.  They have been talked about and I never knew what they were-Stamp like stickers used on Christmas envelopes and I most certainly had no idea what they were used for.  Well, they were used for raising money in helping people beat the disease Tuberculosis.
Boxing Day and Epiphany- As Americans we don't usually celebrate these but it was fascinating to earn about these traditions and I must confess I have mentioned to my husband that celebrating and teaching on Epiphany would be neat for our family!
My Thoughts-
Well, I enjoyed this book immensely.  Though I didn't get it finished in my timeline I will say that it really doesn't matter when you read this book.  I do think it would be cool to read a chapter a night with our family in the days leading up to Christmas.
It's so amazing just how much of our Christmas traditions are tied back to the Birth of Baby Jesus too.  It's a great teaching tool for kids, and it's easy to understand.  And it would also be very simple to turn into a teaching tool for even younger kids!  ANYONE can enjoy this book.  It is a delight to read for sure.
I also appreciated the few times throughout this book when the author admitted that he just didn't have the answers to when exactly a tradition started.  Sometimes details like a specific person, place or time are not available and I thought it was neat that he admitted to not knowing.
I honestly cannot wait till next Christmas season when we will delve into this book as a family!
I give this book 5 Christmas lights! Check out this book on Amazon. 
And a super Big THANK YOU to BookLook Bloggers for giving me a free copy of this book to review!  I always give my honest review and am expected to do so!