Good evening everyone I had high hopes of getting this done this morning but last night was a a TRIP! I was home alone with the two dogs and Hubby's pooch Nugget was not loving the idea that dad and the kids were away! Needless to say I didn't get very much sleep and have been fighting a raging headache all day. I am feeling better now but boy am I excited for bed time!
So here we go!!
♥♥The Weather♥♥
It's another hot start to the week and I'm ok with that!! It's rare we see so many hot hot days here in this part of NY and I am loving it. Tonight though we will have a change after some thunder storms roll through and it gets cooler.
Monday – 90
Tuesday – 80
Wednesday – 79
Thursday –  76
Friday – 76
Saturday –  79
Sunday – 77
♥♥How I am feeling this morning♥♥
I kinda already told you how I was feeling this morning. Right now I am just exhausted and when hubby gets home I will be heading directly to bed.             
♥♥On my mind♥♥
I have a dear friend who has some major health concerns. she has been battling hard and I have been praying for the things that weigh heaviest on her heart. she is always thinking about others even in the midst of her struggles.                  
♥♥On the breakfast plate♥♥
coffee and a sandwich
♥♥On my reading pile♥♥
Choose Joy
My personality tree
The second book in the Wingfeather Saga (with the kids)
A Rose in Bloom
My Bible
♥♥On my tv♥♥
Nothing really
♥♥On the menu this week♥♥
Monday -Chicken Stir Fry
Tuesday – Taco Soup
Wednesday – Hamburgers and Fries
Thursday –  Chicken with roasted beets, zucchini and summer squash
Friday –  BBQ Pork sandwiches and potato Salad
Saturday – Chicken Tenders and sweet potato fries
Sunday – Homemade subs and leftovers
♥♥From the camera♥♥    Summer SUNSET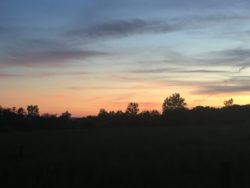 ♥♥Looking around the house♥♥
Everywhere I look this week there is a bunch of fine tuning. Not anything huge BUT a lot of decluttering. This seems to happen a lot during the summer when we are doing more hanging out with friends and doing some summer-y fun things.
♥♥Chore I'm not looking forward to today, or this week♥♥
I need to take care of some stuff in our bedroom but it's hard during the summer because I would rather be outside.
♥♥To relax this week, I will♥♥
Enjoy the summer sun while ……. reading, some painting and finish the fine details in my craft room
♥♥Something I want to share♥♥
The past few weeks we have been getting a box of veggies each week from a local farmer (friends who go to our church). Our box costs right around 25 dollars and we have had the chance to try some amazing new things like fennel and white cucumbers. The cool thing is we are supporting local business and it's something that benefits the health of our entire family.
♥♥On my prayer list♥♥
The friend I mentioned before
Friends and family who have been sick and battling various illnesses
so many more
Love this post Check out Diary of a Stay at Home Mom!