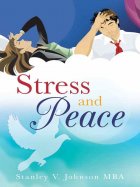 Stress and Peace by Stanley V. Johnson MBA
Stress and Peace by Stanley Johnson is is a book based on how to deal with everyday stress and how to take those stresses and to achieve peace through them. The first three chapters of the book Mr. Johnson takes the time in each of those three chapters to:
to define the purpose of Life
Define Stress
Define Peace
However this is a Christian book and Mr. Johnson quotes Hindu and Buddhist and Sikh writings along with Muslim and Jewish texts and a few other non-Christian writings. This is a problem because the Bible ris very clear about mixing faiths. If this is a Christian book it should be focused on what Bible says about stress and peace
The remaining of the chapters (and there's a lot of them but they are relatively short) is based on life trials and the stresses that come into our lives along with the general parts of life as we grow and mature, Such as:
marriage
children
adolescence
end-of-life
growing older
financial
and various different areas of life
In all of these he talks about the Bible and he talks about an ideal. However we don't live a life of ideals but that is what Mr. Johnson is communicating in his book. In this book the ongoing feeling is that this is a perfect world so you're going to have stress. Stress isn't in a perfect world but if you handle the way in which he tells you to your not going to have any stress. You could do all that he says, to make the stress easier or eliminate stress and still have some catastrophe that will create huge amounts of stress.
So then what do we do with this book? My review of this book is that I first of all didn't Agree with the first three chapters. I think that if it's a Christian book then those other religions have no part or weight in writing a Christ centered Bible based book. It's like writinga Diet and exercise manual while citing a Paula Den CookBook for healthy eating ideas. It doesn't affect me because I don't read those books I don't partake in those religions…they just plain and simple don't apply to me and that's fine. As I read the rest of the chapters I just quickly discovered that his ideas are good the principles are biblical. The things that he said are good but when you do the things that it says and things don't turn out the way they "should" then what do we do when it doesn't ?Mr. Johnson just doesn't deal with that so I think that my review based on the first three chapters being 90% irrelevant to my walk as a follower of Jesus and the fact that his book talks about an ideal, I'm going to give it a two out of five stars and I can't recommend this book only because I really didn't Agree with it.
(WRITERS NOTE: I am NOT saying that the Bible is an ideal, the Bible never returns void and is good for yesterday, today, and tomorrow. What i am saying is that the author does not provide adequate help for those who might follow his advice and things still don't work the way they "should")
I want to take this moment to think BookLook Bloggers for letting me review this book for free and without expectation of a positive review