Greetings friends.  It been awhile and let me just say Life kinda got turned on it's ear.  But that's ok we feel like we are mellowing out a bit and quite honestly I feel more focused than in recent months.  and I have some super cool things coming down the line including some nifty new blog content because even though I have been silent here doesn't mean you haven't been on my mind!  So I am  totally excited for the coming weeks!
So let's jump  in and get Happy….
The weather:::. warmer and rainy.  I love the rain actually, but let's not talk about tomorrow though.
As I look outside my window::: rain drops on the window, mud and green grass. BUT green grass is the only visible sign of spring here at our house
Right now I am:::  texting a company back and fourth about a video on my facebook account that they loved
Thinking and pondering:::bahahaaha I can't believe I have to do this a second time ( my computer decided it needed to run an update right as I was proofreading the post the first time.  I lost 90% of the post so I am doing it again!
On my bedside table::: a few books including my new review book.  I CANONLY IMAGINE by Bart Millard
On my tv::: nothing BUT iTunes is keeping me company. which just happens to be Flawless by Mercy Me at this very minute!
On the menu for this week:::
Monday –  Pasta with meat sauce
Tuesday – Chicken and biscuits
Wednesday – Chili
Thursday –  Chef Salads
Friday – chicken Salad subs
Saturday – OUT we are headed out to a concert with friends from church
Sunday – BBQ Chicken Sandwiches with Potato salad
On my to do list::: the better question is what's NOT on my to-do list
What I am sewing, crocheting, knitting or creating::: Lettering for a church bulletin board ( using the Cricut). video voiceovers and graphics for a ladies luncheon promotional video
My simple pleasure::: reading outside while waiting for the kids to get home from school
Lesson learned the past week:::  transparency is one of the greatest influencers on others lives
Looking around the house::: Spring cleaning is under way.  Itlooks like I'm organizing our life
From the camera:::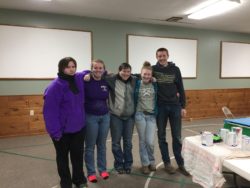 Prayer List::: I have some friends and family who are going through some really tough stuff & our son with Autism is having some health struggles that is keeping us on our toes
Bible verse, Devotional:::  Over the last few weeks I have been studying Esther and this week as I studied Esther Chapter 4 Was hit hard with some amazing truth about this young woman life as she went to from a person of little consequence to a woman of great influence.  And is't that how God repeatedly works throughout scripture, he takes the least likely candidate and turns them into a great influencer!
For more Happy Homemaker posts check out Diary of a Stay at Home Mom.