Happy (early) Thanksgiving everyone! As we have moved through this last year yes a lot has happened but even though some of it was hard we still have so much to be thankful for. Thankfully I have been keep Track all year long with my Thursday Joy Dare post.
♥♥How I am feeling this morning♥♥
Pretty good our wood heat has been causing some allergy issues (Hubby said it's more than likely from the type of wood we are burning since it is different than what we normally burn.
♥♥On my mind♥♥
Oh lots of things. A lot of super exciting things. and we are getting closer to being able to share them with you. AND feeling slightly overwhelmed with some work I need to catch up on.
♥♥On the breakfast plate♥♥
Coffee first, then I will decide later after the kids get up what else I will eat
♥♥Right now I am♥♥
writing this blog post and waiting for hubby to head out the door for work
♥♥What I'm wearing today♥♥
Light jeans' purse and gray baseball shirt with 3/4 length sleeves.sneakers and my hair pulled back into a ponytail *and a fleece jacket.
♥♥On my reading pile♥♥
Reading time has been almost non-exsistent. so my Bible, Practical Dreamer and the Nate Saint Biography
♥♥On today's to do list♥♥
I need to read through the Play scripts and make nots for the December skits for church
♥♥On my tv♥♥
Our kids have fallen in LOVE with Treehouse Masters- for me nothing really
♥♥What I'm listening to♥♥
I have a feeling that gobble Gobble by Matthew West will be on repeat this week.
♥♥On the menu this week♥♥
Monday – Meatloaf and potatoes in the crock pot Tuesday– Chicken Potatoes and carrots in the crockpot
Wednesday – ?? (plans are in progress)
Thursday – THANKSGIVING
Friday – Family Christmas party (when we set up our tree)
Saturday -Tater Tot Casserole
Sunday – mashed Potato Sundaes ( this keeps not happening so it keeps getting pushed back)
♥♥From the camera♥♥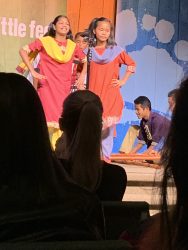 ♥♥Looking around the house♥♥
We have a bunch of unfinished jobs that need to be tackled and finished
♥♥To relax this week, I will♥♥
Enjoy a lot of family time

♥♥On my prayer list♥♥
I have a couple of friends who really struggle through the Thanksgiving and Christmas time and they are definitely being prayed for this week and throughout the season.
We hope you have a very Happy Thanksgiving week!
Thanks so much for Joining me today for another happy Homemaker post! You can find more Happy Homemaker posts and join in on the fun by visiting Diary of a Stay At Home Mom.
You can Also Check out the rest of my Choosing Courage blog posts here!