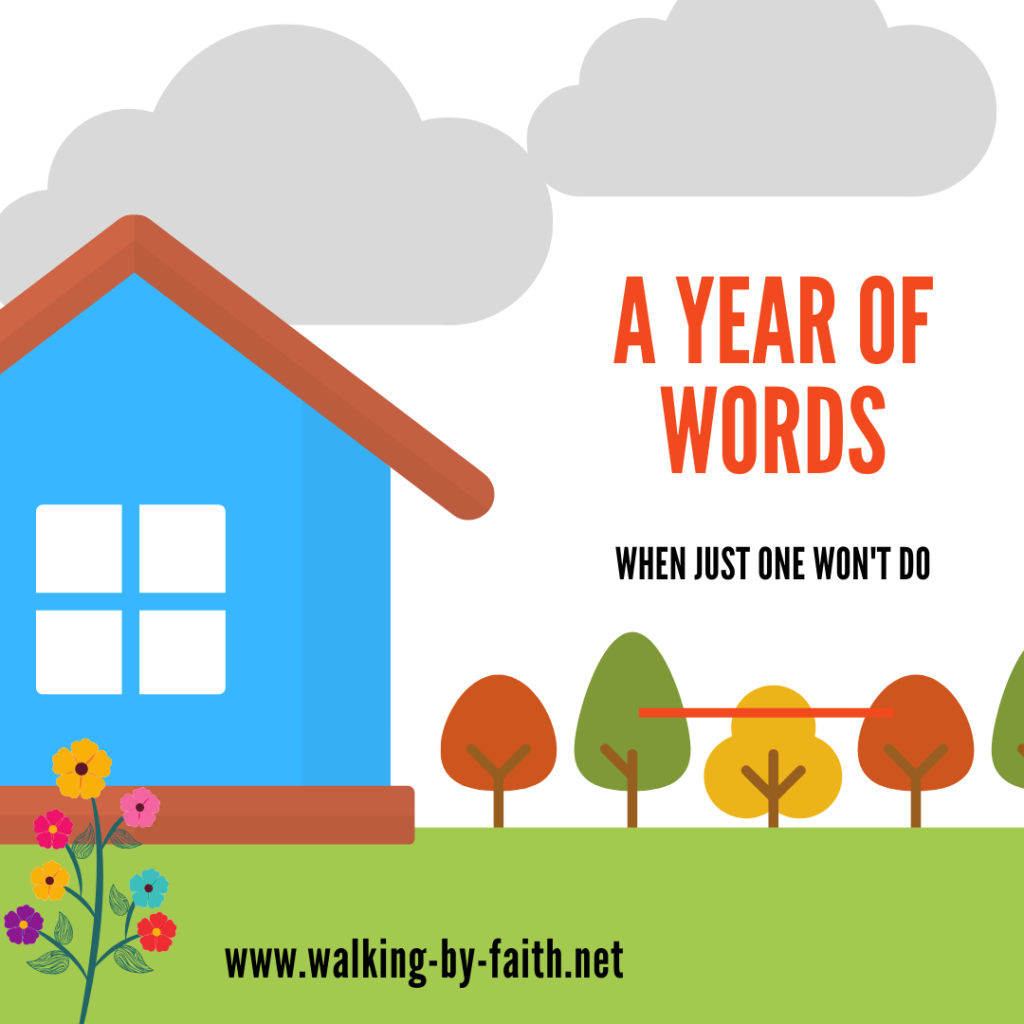 Words: An everyday thing
Words fill our days. As a new parent we can't wait t hear our babies first words. And we fill with joy as we hear Mama and Dada for the first time. And when we have a child who doesn't say words our hearts fall and fear seeps in. But over time we take words for granted. We sling them around. We say hurtful words, we use words to make promises we never intend to keep, we use words to build up and encourage.
But then there are other words. Words that seem to jump off the pages of books and Scripture and when those words and themes show up time and again we need to pay attention.
When Just one Word Won't Do
Usually every year I pick a word to be the theme for the year- and this year is no different, I have "a Word" and we will get to that in another post HOWEVER as January rolled around and I was in a constant dialog with my "crew". Group of Ladies who have become a part of my life like I have never had before). I began to realize that not just one word was going to define my year. .
Focus
As I texted in our group text I kept finding myself asking for prayer for Focus. As I prayed I asked God that I wouldn't be distracted. I'll be honest that is one of two reasons I have not blogged over the last few years like I once did.
But at this point distraction was creeping in in every area of my life.
Fearless
The second word that has been an ongoing theme through the beginning part of this year has been fear. I came to terms with the fact that I was letting fear rule areas of my life and one of them was blogging. I thought I had dealt with the fear centered around my blogging a few years ago. I wrote a specific post…..And then I just stopped writing the stuff God was laying on my heart. I believe the fear was probably two-fold and over the coming months of this year I will hash that out more but as of right now I can't. (NOT OUT OF FEARS SAKE I can assure you).
Balance
The third word that I have been repeating in my head has been BALANCE. I have realized my need for Balance. I spent 4 weeks cleaning and re-organizing every cabinet in my kitchen. (I know that seems like a LONG time) I have a family and ministry responsibilities and other chores that need my attention. I am down to one cabinet and then wiping them all down! In the midst of that the dishwasher Kicked the bucket. As I tried to balance everything I quickly realized that I had fallen short on a bunch of other things.
And I am sure there will be others but for now these are the recurrent words. If there are more I am considering sharing more as they come along.
Themes in Our lives.
Every once in awhile themes pop up in our lives and I believe they are not just coincidence or by chance . I really truly believe that the happen because God is trying to teach us something. Or He wants us to pay attention to something.
As I have been doing my devotions through the General Epistles (James, First and Second Peter and first, second and Third John I saw there was a theme that stuck out to me was that of ATTITUDES and POSTURE of a believer…..HMMMM yep I wrote this blog post all about attitudes!.
Words Play apart in our everyday lives
Do you ever feel like you are sounding like a broken record.?Saying the same things over and over again. It happens all the time. In my prayer life, in my parenting, in my marriage. In my ministry. If you find this happening in Your life and you feel like a broken record take a moment and really ponder the significance of these repeating emotions, concepts….WORDS and really ask God, "What do you want me to learn from this?"
You will be absolutely amazed just how much you will grow when you are willing to have a teachable spirit (Blog post coming soon).
For now let's chant about what themeless you have been seeing pop up in your lives and how God is working through them to make you more like Him!
Blessings, Mary