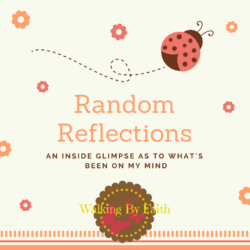 Welcome to this weeks dose of randomness!  It's been a couple of weeks but a lot has happened during that time.   I have been pondering about what t has happened and I think I have kind of narrowed it down to  3  reflections of randomness!
Reflection #1. Thrive
Our church is going through the book Thrive by Mark Hall (the lead singer from Casting Crowns).  It is my second or third time through this gem of a book.   My first encounter with this book was when I reviewed it  in April of 2014 (you can find that review here– but don't judge it was one of my first reviews!). My husband is leading it in two connect groups and I am leading it in the ladies connect group.
As I have jumped into this book again, I am simply amazed by the new insights  I am seeing.  One thing that struck deep this last week was this quote:
"I discovered this is how we pray for people.  When somebody is dangerously sick, we pray for 'God's will,' not for healing, Because we're afraid the person won't pull through and we don't want to stick out our necks in public.  But if it's my kid, I'm not praying for "God's will".  That's my boy and I am begging God to heal him!  Our just-in-case prayers tell us something about our view of God."
My response: OUCH!!
It's true.  Every.  Single.  Word.
So I want to pray differently.  I don't want to communicate to myself or others that I only think God is capable of  healing someone I want them to know that I have full confidence that He can.  Yes He may not choose to.  I need to drop the easy Christian-ese phrasing and pray with confidence!
Reflection #2 Job
Ok it's time for a confession- out of all the books in the Bible Job is my least favorite.  Some you who know me really well might be shocked by that because Job struggled, and I have struggled.  Not like Job necessarily, but most people are stunned when they hear my testimony.  And through that God has blessed abundantly.  But I find Job arduous.  There are points when you want sock Job's friends for being so…….uncaring ( that seems too tame). And then there is Job who can seem whiny, and even at points puts himself on the same level as God.  And when God steps in I feel like standing up and cheering "YES FINALLY!"  but as I have embarked on reading through the Bible chronologically I have also chosen to use a different translation..though it's not a translation but a paraphrase.  You know what, It is what I needed.  AND it's ok.  REALLY.  And I am learning things from Job and kinda enjoying it along the way!  I have even posted quotes from Job to my social media!
Reflection #3 My Planner
I am on a hunt.  a hunt to see how I can take my every day planner and utilize it more with prayer.  I already have a Franken-Planner.   That term means I have created my own take of a Happy Planner. NO JOKE. I have my regular planner (but only  6 months worth and then in the second half I have another planner (my blog planner- the same 6 months.) I am still getting use to the set up, but I am trying to streamline what I've got in my bag.  So I wan to implement my prayer  thing (I don't know what to call it)- into my actual planner.    If you have any thoughts feel free to share below in the comments.
And that's all I have for today.  How about you? What have you been reflecting on over the past few weeks?  I'd love to hear from you!