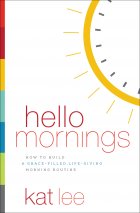 About The Book
In Hello Mornings Kat Lee takes her years of knowledge and understanding of what it means to have a  purposeful morning routine.  She takes her years of experience and  writes from her passion about what it means to truly have a successful morning routine.  She begins with the importance of having a morning routine.  One of the most intriguing concepts in this morning routine  presented  by Kat Lee is the idea of a 3-minute morning..    Each morning you spend just one minute on each of three areas.
God Time
Plan Time
Move Time
Each of these 3 areas are broken down in the simplest of tasks.  In God Time you read and meditate on one verse.  In plan time you review your calendar, and in move  time you start off drinking water.  The whole point is to set the routine, making it a bit.  As you get comfortable in the routine you grow your various times.  The beauty of this is when you come to a point of stress, change or sickness you won't just give up where you are you can just simply go back to that simple three minute morning routine and not feel like you have completely failed.  Kat then goes on to explain the growing of each of these areas.  She gives ample ideas on how to grow each one without it seeming like she is forcing you into her way.  The whole concept really is about discovering what s right for you!
The last four chapters are a toolkit as she Labels it in section 3.  In these chapters she talks about building habits, the power of preparation , Community and accountability and Her call to action.
My Response
Wish I could sit here and tell you how easy of a book this is.  But it's not.  It's a good book.  It is a powerful book because it holds some powerful truths.  I wish someone had given me permission years ago to have a 3 minute morning routine.  It has empowered me to go back to square one and to lay a foundation that once upon a time I had, but as I became a mom, and joined my husband in full time ministry, I have  fallen short of where I really needed to be and honestly at times I have just plain and simple given up because Life has gotten too crazy or too hard and I can no longer keep all those hoops spinning.   I have now come to a place where I don't have to drop these three hoops.  The most important hoops.  This book has opened my eyes to a new way of looking at my mornings.  yes I know I am a morning person already but this simple way of looking at mornings is even a do-able morning routine for the night owls  I call friends and family.
Yes it's a hard book. AND yes it is worth your time.  Another amazing facet of this book is you don't have to get through the WHOLE book in order to put these principles into practice.  You can get that three minute morning implemented ASAP!  It builds momentum and you will find yourself having more confidence as you move forward through this book.  Needless to say ( as if you couldn't already tell.) I highly recommend this book.  I give it five stars.  AND will you join me as I say HELLO MORNINGS?
A huge Thank you to BookLoook Bloggers for Providing me with the free copy of this book for review purposes And an even bigger thank you for letting me review these books as I see fit!