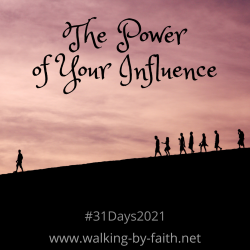 Welcome to Day 31!
We have officially made it to the end of the Write 31 Days Challenge!!! (And today is day77 of the 100 day blogging challenge I started way back in August!!)
We have discussed a great deal about influence- both godly influence and negative influence. I am not going to hash out all that we have learned over the last 4 weeks. What I am going to do is give you a challenge. The challenge comes from the summer after my last write 31 days challenge. I had only written 18 days about influence.
I was taken to our camper and dropped off for my week alone at the Bible conference we attended as a family. Now I have no recollection of who the speaker was-see when my hubby dropped me off we didn't know I was SICK- He would have to come back early and get me because I had Pneumonia.
But before I left…
The speaker challenged us to say thank you. Thank you to those who had been a godly influence in your life.
Despite being sick this concept stuck in my head. I couldn't shake it. So when I was fully recovered I decided I to write to four or five people who really influenced my faith journey.
I poured out my gratitude for what each of these families had done for me.
I knew that because of these amazing people and their willingness to live out a godly influence I had been loved to a point of changing , It was their love, their joy, their peace, their patience, their goodness, their kindness, their faithfulness, their gentleness and their self-control that pushed me to be the woman God created me to be (even in the middle oof my mess).
And something happened-
Saying thank you really does change a person. I had been practicing gratitude for a long time, and gratitude changes a person. It's humbling. Because it takes our eyes off of what we do and it puts our focus on what others have done. Specifically God and then others.
So I wrote 4 (maybe5) letters very specifically thanking the families or individuals for their godly influence in my life. And all of them wrote back. They didn't have to. I just wanted to let them know that they were seen and appreciated and that their influence didn't go unnoticed and unappreciated.. I saw the investment and hard work they had invested into my life.
So now it's your turn!
This is your final challenge here in the Influence subject. I want you to pray and ask God to show you who has impacted your life for the better. Ask him to show you those people who chose the harder path to live like Jesus and be the hands, feet and mouth of Him in your life. And then write to them. Sharing with them how they ministered to you and changed your life. And know that your gratitude is influencing them as well!
Well it's been a blast!
My prayer for you is that you aren't just satisfied with being a positive influence but that you would seek to be a godly influence. Seeking to grow In the fruit of the spirit and choosing to love like Jesus! I also pray that you would accept this challenge and fully embrace it!
Thank you for joining me on this journey!
Feel free to check out the links below and we will see you tomorrow as we resume our regular blogging schedule for the next 23 days.
And let me know what you learned during this series that you never really thought of before. And please introduce yourself in the comments below.
Write 31 Days 2018 Influence Posts
Choosing Courage 100 Day Writing Project
Write 31 Days 2021 Link up List. (Scroll to the bottom)