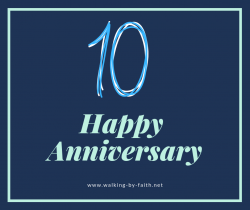 If I could define the last ten years in one word It would be ADVENTURE!
An adventure usually has highs and lows.  And we have had both.
It's been a whirlwind of an adventure.  Ten years ago we were sitting in our new home eating pizza with all our new friends who had just helped us move across the state of New York. There were people in other rooms putting our beds together so we had a place to lay our weary heads.
Words cannot express the ride we have been on and there is no sign of that ride ending anytime soon.   And we are so thankful.
This year holds some things coming down the road. Amazing things.  Hard things.  New Things.   In these 1en years, we have added a fourth child-He's almost 9.    We have had 5 dogs, 6 indoor cats, and 4 outdoor barn cats.  (Most of whom we have tragically lost to illness)  We have changed houses only once.  We have made many new friends, built on old friendships and said goodbye for now to some who have made their home journey to heaven.
We have laughed hysterically.
We have cried and wept with a deep sense of loss on many levels.
We have lost 2 grandparents, Numerous aunts and uncles, and many friends.
We had to hike one of the scariest, hardest paths one could come upon in life But God took that situation and gave us hearts for others on similar paths and made us hiking buddies to others as they move amongst the treacherous terrain!
There have been deep conversations, salvations, and choices made to follow God wherever He leads.  Ministries have been started and grown, while others have been set on a back burner as God has said Not now.  Great opportunities to serve outside of our church and in the community. And we have also experienced the heartbreak of watching people turn their backs on God and go their own way.
WIn this church all four of our children have been saved and baptized.    In this church we received a diagnosis of Autism AND Central Auditory Processing Disorder And two years ago on this very date I thought it was a great idea to celebrate this anniversary by having emergency Gallbladder surgery! (Note heavy sarcasm).
We have had the blessing of meeting and hosting many missionaries, most of whom we call friends now.
We are even in the finishing stages of a church building project.
If you sit in at a group of our church, you will hear little digs about unicorns, late-night Wal-mart trips and prank call to a sleeping pastor.   You might also hear about a little boy escaping Jr. Church just so he can give his pastor daddy a hug.   You will hear stories about a pastor with a black eye, cut and sewn up fingers and a Knee and a chainsaw.   You will also hear about a welcoming police officer wanting to know why the not yet voted in pastor was staying in the parsonage- Yes it was a joke and yes we still came.  You will also hear about that same pastor driving multiple hours in a given week to span 3 hospitals in three cities. Hours he has spent working alongside men serving with them.   What you won't hear is him complain.  Or of the burdens he carries silently sometimes not even telling me.   You won't hear of his fears but you will hear him share from God's word.   He once said he would never be a worship leader HA! Look at him now! And he said he would never sing a solo!   Every ounce of him is poured out.  From sun up to sun down and even into the wee hours of the morning he pours himself into full service.   Not to please people but to bring Glory to the One who called him!
And if you look even deeper you will catch meaningful glances hugs in corners and tears as people connect on a far deeper level.  You will hear a mixed worship service where all will find a variety of worship to fill their souls….. if they let it.    You won't find a museum of dusty old relics you will find a hospital of both hurting and healing souls searching for answers in hopefully the only place they can be found.
I'm not gonna lie.  It's been a lot of hard work and the burden is great to see many people either grow closer to God or to meet Him as Saviour for the first time. But what's even harder to watch those who were once so faithful turn away- for whatever reason.  Some days there are prayers of joy and some days there are prayers of great sadness and brokenness. But on most days it is a mixture of both.  There are days when we have said Lord " why did you pick us for this?"  And there have been days when we have said: "Lord I'm so glad you have picked us for this" (Usually after we have asked the first).
As I write this I am sitting with my phone next to me waiting for a text or a call to learn some news about a BIG prayer request that has consumed much of my last 3 years as we have journeyed a difficult path with a friend.   Most of the last 10 years I can definitely say has been spent in a constant state of learning to trust, wait and be patient.   It seems as though that has been a theme for sure.  I would like to think I have made progress but on days like today, I feel more impatient than ever before.
When we moved here 10 years ago I joked that they better like us because we weren't leaving for another 30 years.  A third of that has passed and we aren't anywhere close to considering a move.   And I am glad because I love watching our people grow.  Through the good or the bad we have watched God work miracles and I know he is not done yet. We have counted it a blessing and still do to serve God with all our hearts, souls and minds and strength right along with you!
Happy 10-year anniversary!  WE LOVE YOU! And so glad God has brought us together.