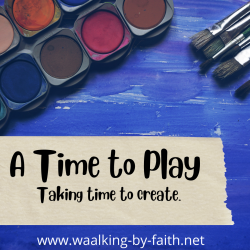 I am so Excited. This week marks the beginning of Inkrober. It is my third year participating in this fun daily exercise is getting better and challenging yourself to do the daily prompt.
It's amazing just how much your skill gets better over the 31 days. You can get as simple or as elaborate as you want. the point is that you at least draw everyday so you can work towards making it a habit.
So how does this fit here? Well in the spirit of Choosing Courage I am going to share my progress here each week. Right here as A Time to Play post.
And in the spirit of the challenge I thought I would share with you some of my favorites from last years #inkrober
Last years Faves
Now these aren't in any particular order- I know which is the last one I did though. Most of my art from last year was mostly in black and white as I was super busy. And just took the time to focus on the drawing. Now you don't need to follow the prompt list either. In the past when I was first beginning I tried my hand at a couple of different drawing and made my own prompt list and almost all of my drawings were colored in. My schedule looked different then,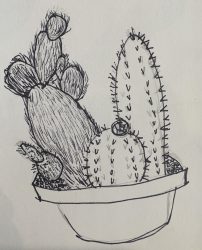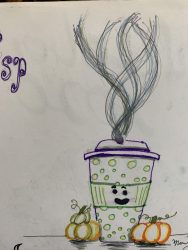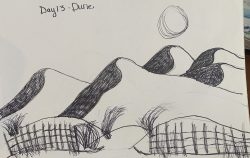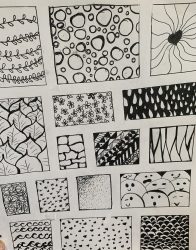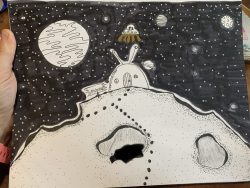 That big black splotch in the middle of the crater is NOT a part of the drawing- Just an FYI.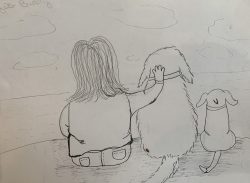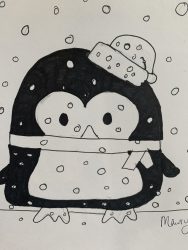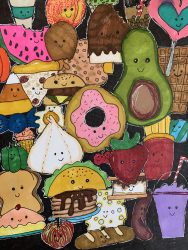 This was my last picture of inktober last year- It's the only one that is completely colored. When I finished uploading it to Instagram I knew it wasn't going to stay blackened white. I had been learning some alcohol marker techniques and I was excited to try them out. I can definitely see a difference in the technique from the first few characters to the last ones I did. (I used #Ohuhu mArkers and I used Artist loft and Micron Fineliners
This years Prompt list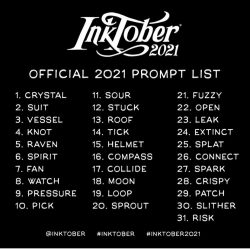 You can totally follow along with me each day by going and checking out my instagram
You can also follow the Inktober hashtag on Instagram .
Thanks for joining me for todays Choosing Courage post. You can check out all the other posts by clicking here.