The  missed oppertunity
I have been re-reading some past blog posts, and do you know what I realized?  I don't blog very much about my husband!!  That's mostly because I respect his desire to not be put into the spotlight  and it's not that I am choosing to disrespect his wishes today BUT there are some days that you have to give credit where credit is due.
I was doing some prep work for a blog post for later today and I was overcome by the amazingness of my husband.  The things not everyone gets to see . The things this man does and I get to support him in. The things I am sometimes  guilty of taking for granted.
His Many Hats
He wears many hats and God has gifted him the ability to do them well.  He and I have been married for almost 15 years.  We have 4 kids ages 12,11,alomst 10, and 7.  One has Autism and another has a learning disability known as Central Auditory Processing Disorder.  This is a huge part of his life but the other huge part is his calling to be pastor.   We have been at our current church for almost 9 years.  I have watched him spend countless hours ministering to people in some very unconventional ways.  He has the unique ability to meet people where they are, work side by side with them and create a relationship with them.  My husband is so dedicated to his call that he is constantly seeking to grow in it,  to learn and grow deeper his relationship with Christ.  I have watched him pour countless hours into people, to shed tears on their behalf and still treat them with the love of Jesus when he is hurt by them.    He is a real leader who can lead without an iron fist or micromanage the people he is leading.  He also takes time to to fix broken things at church. He runs errands for church.  he runs errands for home and as I looked at the calendar page for October I noticed there were things missing from his weekly activities
Phone call
emails
texts
visits
people in crisis
emergencies
last minute meetings
Prep for sermons
prep for 2 Bible studies  a week
And this doesn't even begin to cover family things like convent care trips and the like.
He as a person
Though he will tell you otherwise he is intelligent and skilled in communicating the word of God.  I have watched him painstakingly pour over God's word sometimes changing his sermon multiple times to be sure to bring God's truth, even if it stings deep within his own soul.  and with that goes transparency of his heart sharing both from the pulpit and in private his struggles.  He does not view himself as higher or better than another.  He has strove to continue to grow in his education, that enables him to sharpen and fine tune his skills.
One of the greatest things about this man that I count as a blessing from God is his desire to do whatever it is he has set his hand to, and to do it well.  Many people don't get a chance to see this, but I count it a privilege to get a front row seat.   To the countless hours counseling in person at our table, on the phone and via text message (yes that really can happen). I get to watch him wear himself thin as he goes from one meeting to the next, ones where he spends hours, days and weeks praying for and pouring over.  I count it a privilege to  Get to be the one who shares in his greatest joys and his deepest sorrows.  I have watched him help others try to pick up shattered pieces of great disappointments.
People are important to Him
He makes time for everyone though that is rarely seen .  It is done  in secret to protect those who are hurting.  He holds so much  between him and God even I do not know all that he has been told.  He drops his plans, and desires to run to the aid of another.  He changes  his work schedule to meet others needs and has done so, most jobs would have fired him.  And this is why  some days our grass is not mowed or the garbage has not been taken to the transfer station.  He views our cars and home as not our own but those things belong to God, things to be used for His service. They are just on loan to us to be used for God's work.
Care for our family
Most people don't realize that he is the sole driver of our family.  Something he committed to nearly 16 years ago when he asked me to marry him.  He knew it was highly unlikely that I would never be able to see well enough to drive.  So sermons are prepared as I take care of kids appointments, emails are sent and visits are made in-between  all the craziness.  He is an amazing multi-taskr.  he uses every spare moment he can.
A week  ago I posted this picture of something that is rare.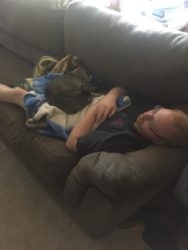 We had already
y picked up kids at 11:45
ate lunch
took headache medicine to the other child at school
gone to two parent teacher conferences
worked
sermon prep
The poor guy had a migraine.  And had about a half an hour before we had to eat dinner and leave for Awana.  When I posted the picture to social media it was about the cat.  She doesn't snuggle with just anyone.  She likes him a lotAnd there were very supportive comments on social media.  BUT comments came outside of social media that were not so kind. And that is sad.  For a  man who rarely if ever takes time for himself, who pours so much of himself into others.  Who seeks to build community and build others up.  Who gives everything he has and then some. Who bends over backwards for anyone who asks his help.
I am truly sorry I posted it….for the flack he has taken.
So Grateful
So for all of this I want to take the time to thank God for all that he does both the seen and the unseen.  The 80+ hours per week for church the 10-20 hours a week for his other job and the countless hours for our family.  His ministry is so far deeper than most can imagine, even within the community.
I am grateful that he loves us and takes care of us.  Enough to step up and provide in different ways.  that he makes sure we always have working vehicles. that he makes sure that we are cared for.
I am thankful that I get to watch.  I get a front row seat to his ministry, our ministry together.This also means that sometimes the seats up close see the messy things too.  Those moments when people are so wrapped up in themselves to see what is really going on.   Im so grateful he includes me.  so many pastors and wives live two separate lives. I saw it while we were in seminary. Couples who did their own things, separately.  When I am leading Bible study, he is watching the ladies kids.  He helps  with the RGT conference.  He has mentored young men alongside me at the Pregnancy center, reaching deep into the messiness of our community.
I am so grateful to get to watch him grow into the man God always knew he would be.   It's huge blessing to see him step out and try new things to gain boldness.
To watch him give his whole life to Jesus in service.  That he holds nothing back. To sacrifice.
To My Pastor
In Short during this month dedicated to showing appreciation to  our pastors.  I want to say a great BIG thank you.
Thank you for being a selfless example of what a godly man should be, not only for our own children but to the kids who know and love you!
Thank you for reaching me every Sunday , and every other day what the Bible teaches.  I love sitting under your teaching and I learn so much.
Thank you  for teaching me how to show love and grace through the good, the bad and the ugly.
AND THANK YOU for asking me to be apart of this journey with you 15 years ago.  Thank you for seeing me as God does, as a women with potential NOT just as I am a broken imperfect person.
I will gladly serve with you another 15 years and until God sees fit to call us  Home!