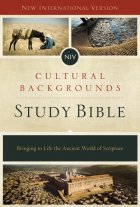 NIV Cultural Backgrounds Study Bible
By Craig S. Keener & John H. Walton, General Editors
This study Bible is based on the understanding the importance of context…and context is key..  Many Biblical scholars say this is key to understanding  the Bible…my husband is one of those scholars.  So of course I had him look at it and give me his honest opinion.  I have used it to study now for About two months.   It is chock full of helpful interesting information.  the Bible itself is designed well.  When you take the dust jacket off the hardcover you will quickly notice something unique.  Even though it is a hard cover the design on the cover itself looks just like a regular Bible.  There is another cover option as well.  I actually got to hold it in my hands this weekend at a local Christian bookstore,,,AND IT WAS GORGEOUS! it is a cloth  hard bound edition with a lovely teal-ish green  pattern with bound corners and spine!  I oohed and Ahhh'd over it a while in the store 🙂
The pages of the bible itself have a tan hue that graces the edge and the maps and pictures are of a very high quality.   I felt as though I was opening a true treasure as I flipped through it's pages, exploring the details nestled deep within.
The content?translation.  The NIV is one of our top choices for translation and we base our choices on My husbands work with the Greek and Hebrew Texts and along with his studies  in Linguistics and Textual cricisim.  so of course when It comes to a study bible I am going to turn to him for advice,  He was very excited to see one of the authors was co-author of the Study notes section and was concerned with the other.  This is due mostly because this author has a tendency to weave his  pet issues as fact .    Upon reading the notes that pertain to his pet issues my husband concluded that he stuck with the facts and the context rather than go off on rabbit trails.  I am not trained in Greek, Hebrew, or other biblical languages as my husband is so I rely on his expertise to make sure these things are rock solid before I put my stamp of approval on them.    I have use the study notes as I have been working my way through Titus and I have found them to be informative and very helpful in understanding the context of whats going on the passage.
This Bible has potential of becoming a great to tool to both the scholar and the layman alike.  It is easily understood AND enjoyed.  It makes the Bible come alive as you learn about customs, cultures, and backgrounds of why things happened in the Bible the way they did.   I encourage you to check out this Bible, its what I would call a must have for Bible Study!
The only downside to the Bible in my option for this legally blind girl is the print is Soooo tiny, especially in the Study notes area.
I give this Bible a 5 out of 5 stars!!
Thanks to BookLook Bloggers for providing me with a free copy for review purposes.  in no way is there a positive review expected  in return.