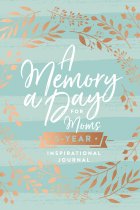 This little book is beautiful it's artwork is amazing. The copper leaf work is gorgeous.  This little book is a journal with the idea to help moms record memories of the precious little ones.  the cool thing about this book is that ut spans a 5 year time period.  It has 366 prompts. and it has a prayer and a verse for each day of the year and that's about it To describe this book in lengthy terms is not possible, other than what I just gave you I can say  "and the pages have a bunch of lines on it….Let's get into my critique!
Pros
It's beautiful- the color scheme is gorgeous.
It feels nice in the hands (it's just the right size).
It's a unique idea….BUT….
Cons
The copper foil used on the cover and spine have significantly worn off since receiving it a month and a Half ago.
What is a memory you want to Keep?
THE PROMPTS- ( when I requested this book I didn't realize it had prompts.  Had I realized this I may have not requested it at all.) I was super excited about this journal and I showed it to a good friend of mine, a mom of 3 kids.  She loved the idea and opened it up. The very first two prompts she opened it up to were about your husband. now no big deal right but my friend left an abusive spouse and so this is rough on her and this spawned some in depth study.  I counted every prompt there are 12 that mention husband/ spouse.  the kicker is that most of them have nothing to do with being a mom (go back and review the title of the book if you are confused why this is a problem.)
As I began to count those something else occurred to me, so I began to count this too.  Out of 366 days there are 159 days that refer to the mother's offspring as a singular child.  now I don't know about you bu most of the moms I know have more that one child. SOOO how do you pick which child you will journal about? So you might say  "well Mary, how many prompts refer to multiple children? 100? No 50? Um no. 20? I wish BUT NO.
5. There are 5 prompts that refer to multiple children with a few others referring to "FAMILY".  ok I get it you need to reach every spectrum of parents BUT that kind of unbalance????  Seriously?
On a whole I think the prompts are pretty much worthless anyway because honestly they really aren't about "mEMORIES as the title would suggest. honestly I don't want the memories of what the kids bedtimes were…THATS CHEEZY in my opinion.
the things I want to remember was that a certain child thought he needed to stand in the toilet to pee in it. (yeah that's real life in this house) or the first day of camp, or first crush or  cute thing the littles talked about at dinner.
The prompts make the journal feel underwhelming and purposeless. it would be a much better book with out it.
The verses and prayers- Ive never been a fan of prayers written for me.  How about a prayer prompt instead?   Something to make you think and converse with God over.  I think that the Christian writing community has the idea that people don't know how to pray for themselves.  this was a discussion not long ago amongst some friends.  The general consensus we would rather pray for ourselves so we skip them.  the verse a good idea but put it at the top f the page rather than an afterthought at the bottom.
Overall I give this 2 stars and you got them solely on Aesthetics.  I think you can do much better Thomas Nelson.
A Big thanks to book Look Bloggers for sending me this free copy for review purposes and for letting me write what I really think about this book