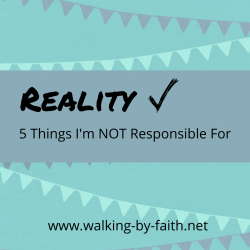 Happy Wednesday Friends! Over the last few months, I have been doing a lot of heart work, as if you couldn't tell!!! One of the things that I have had to do was a bunch of reality checks. And A lot of those had to do with unrealistic expectations either I had or ones that others had for me. More often than not though it was one that I had embraced over time, you know the ones. The ones you fight at first but you become so worn down over time then all of a sudden you are like whoa what happened?
That's where I was when I realized that I had taken on a whole bunch of responsibilities that were just plain and simple NOT mine.
So here are the 5 responsibilities that aren't mine to have
I'm not responsible for people's life decisions!- I can lead them to the truth. I can teach them but at the end of the day if they don't follow what I have taught it's not my responsibility and I'm not going to be held accountable for their decisions. (even if they seem to think I am.)
I'm not responsible for others' relationships with God- This includes my children, my hubby, the people in my church, and my friends. The old adage of " you can lead a horse to water but you can't make them drink" comes to mind. Interestingly enough we have to go no further than Jesus t see this is true. Not only did Jesus teach truth, but he also lived and breathed it. Jesus is TRUTH. But not everyone he taught embraced that truth. JUDAS. Was it Jesus' responsibility to make sure that Judas obeyed the TRUTH? Nope. That is, drumroll, please…JUDAS'S RESPONSIBILITY!! No Joke! We live in a world where we don't like to take personal responsibility for our actions. We can come up with a million different ways to make it someone else's fault. Our circumstances may be rooted in other people's choices BUT what we do with them- THAT'S our responsibility. How we choose to respond, both in action or with words- our choices related to our circumstancences= our responsibility.
I'm not responsible for someone else's bad attitude. That piggybacks off #2. Their attitude is their choice. I cannot make someone have a good attitude. I can lead them or encourage them to change it but at the end of the day, THEY have a choice to make not me.
I'm not responsible for when someone gets angry and loses their self-control. I'm not responsible for other people's sins. Someone's actions do not warrant a lack of self-control. whether to myself or to someone else. Once upon a time, I was told if I did something, someone would harm themself. That is mental/emotional abuse. It is a manipulation tactic that worked. I lived in fear of that person and what they might do. I was in an ongoing game of mental chess. I lived in a constant cycle of "if I do this then they might do this". As our pastor says "That's a game you will never win. If they chose to do something that's their choice and I am not responsible for it.
I am not responsible to fix other people's sins. Following Jesus is costly, and if someone wants to do so they much chose that hard path. BUT I can't do it for them. I can give suggestions but I can't do it for them.
BONUS
I'm not responsible for carrying on relationships. For decades I have felt the need to carry on relationships. I have friends that I have always been the first ones to always text or call. I also have had relationships in my life that will call to ask how I'm doing ad then cut me off just to talk for an hour about their lives and if I get a chance to talk it's "oh I gotta let you go." Talk about a complex inducing what is wrong with me scenario. For a long time, I felt really guilty that I wasn't a good enough friend because they didn't check in on me or they would get offended when I didn't check in. the reality is it is NOT my responsibility to carry the weight of relationships. I need to let go of that guilt that comes from passive-aggressive comments whether in person or on social media.
What happened as I have let go
As I have grown and learned and been counseled over the last few months I have come to realize I am not alone in these struggles. That brought so much freedom. There was a release and a huge sense of peace I didn't expect to experience. I felt as though I was being crushed by invisible weights. Every responsibility I was trying to carry made me feel like a failure. Of course, I was going to feel like a failure because I was trying to do something that wasn't for me to do. It was more than a feeling I WAS failing. I was failing at being Suzy because I'm not Suzy. I can never be Suzy. Only Suzy can be Suzy. I can only be Mary. When I stopped trying to be Suzy for Suzy I was set free from failing to be Suzy! (Funny how that works)
I am still growing in my understanding of what I am not responsible for. It's a journey. I hope that my journey ad what I have learned helps give you freedom from unrealistic expectations, whether it is self-placed or placed on you by someone in your life.
Now it's your turn: What are you NOT Responsible for?
What are some things you are holding onto that aren't your responsibilities? Have you let go of them? How did you do it if you did or what should your next steps be?
Thanks so much for joining me on this journey feel free to check out last Wednesday's post Truth is I'm Not Who You Think I am