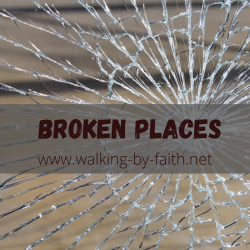 Broken Places, we all have them. Maybe we don't want to admit that we do. Maybe just maybe we don't really know those places are broken. Maybe we have already worked through a process of forgiveness, letting go, or dealing with grief. It can be anything really. Then one day Jesus shows up (ok so he's always here but for the sake of my connection let's roll with him showing up) and says oh yeah that thing you stacked away in the closet, et's deal with that, NOW.
If you are like me, I was dumbfounded. Lord, I've dealt with that. We are all good.
Enter the Woman at the Well (John 4:4-42)
Now my story and her story are not the same at all….or is it?
Well for starters, I have only been married once. So if there are any questions along those lines I just took care of them. When the woman went to the well that day, she had no idea she was going to encounter the one who knew all of her deep dark secrets, or not-so secrets/. She had a reputation.
When I woke up a month ago with my mind racing with all sorts of scary emotions I had no idea that deep in my heart Jesus was going to say "ok today is the day Mary, let's put it all on the table"
The Woman at the well became a point of fascination a few months ago. I couldn't tell you why at the time. I couldn't put my finger on it. I don't know why I was reading about her, I don't even know when it was. I just knew I was drawn to her. I have snippets of notes that really at this point mean nothing to me. I just know that I connected with her on a whole new level.
And if you have been around here for very long you know when that happens a Coffee With Friends Post is born.
And here we are….
I want to give her a name because the Saratan woman or the Woman at the well doesn't seem personal enough for a Coffee with Friends post. So I am going to call her…Sophia. (Please know that this isn't her real name. It's just for the sake of this post.).
Jesus went to that well to meet Sophia, and Sophia went to the well to get water. She went there in the warmest part of the day to ensure she wouldn't hear the whispers and see the glares and feel like she was being judged. Jesus knew that because Jesus KNEW Sophia. He knew everything about her! He especially knew what she needed and it wasn't the water from Jacob's well. He knew she needed him and what he had to offer- living water that becomes a fresh bubbling spring that will give them eternal life (verse 14)
Now, go get your husband… GULP.
Oh to not be in her shoes, UH I don't have a husband. GULP.
Jesus said yep you are right, you have had five husbands and the dude you are with now isn't your husband DOUBLE GULP!
AND SHE STAYED
Goodness friends if I were her I would have been gone. A dude I have never met is telling me all about my life. It freaked me out bad enough when my pastor said a few things about me that I had never put together. (I did some gulping of my own!!!) And here she is just being present
AND Then she changes the subject….common we have all been there done that. We don't want to deal with the pain we have in our hearts. Whether it's sin, grief, abuse, broken relationships, YOU NAME IT WE WILL AVOID IT…like the PLAGUE. We don't like to be uncomfortable.
The funny thing is Jesus humored her. He didn't go back. to her sin. He answered her questions and in the end, reveals he is the Messiah.
The disciples come back and Sophia rushes off to tell everyone she knows about Jesus. and how he has told her ALL she has EVER done!
She uses her testimony with Jesus and many f the villagers run to meet him and believe in him in the process.
Her willingness to stay present with Jesus led to her life being changed. She could have stayed busy and filled her jug and been on with her daily chores.
WOW!
How this relates to me
Well like the woman at the well I too have broken places. Places in my heart that I have neatly placed the "dealt with pile" and I closed and locked the door. They were considered off-limits to even me. The problem is I still knew they were there. So I began to distract myself from them. My number one choice of distraction…PEOPLE. I can care for people. I am a pretty good listener, unless I have b]my earbuds in and then well everyone wonders why I'm not paying attention. (I put them in when I am "in the zone".). I never really set boundaries. It was always easier to help people with their hurt and pain because it distracted me from my own.
But then all of a sudden there were no people. I was sick. Then we left our church and there were even fewer people. I was broken in so many ways. I was strong for hubby, the kids, and for anybody else who came to me. And I began to hide behind my phone. I knew I was distracted but I didn't know why.
That morning I woke up I was face to face with Jesus- I had removed the phone issue. Within a week's time, I was face to face with that closet full of broken places. Broken relationships, painful memories, wrong choices, failures, hurt I sustained at the hands of others and what those things had done to me. The reality is I hadn't dealt with them. Yes, I had forgiven those involved. No, I wasn't harboring anger towards anyone, BUT those things had created walls. Walls for people who weren't even involved. They were walls of fear, and anxiety and had tainted how I saw myself. Some of that is still so startling to think about
Pefectionism creot in
See I was SOOOOO afraid of being in trouble that I tried to make sure everything was just right. I checked off this list of how to love people (ahem that would be 1 Corinthians 13). This is a whole other blog post in and of itself. But I had a mental checklist of bible passages.
BUT sometimes even when you love someone with the whole list they don't do the same for you- it's one-sided and you kinda just start believing you aren't worth it. That it really doesn't apply to you. Boy, I had no idea that was the path I was on and it shook me to the core. I was afraid of everybody. Even my poor hubby – I didn't know it. We have been the best of friends for over 20 years (wow that makes me sound old).
I knew I could trust someone….my dog Rosie. for 9 years she laid at my feet in my craft room/ office. She sat next to me on the couch and would listen to me talk myself through whatever struggle was going on. She never talked back, she never ignored me, she didn't judge, or roll her eyes.
She saw me cry and didn't say, Get over it. I chuckle as I write that. She was my best non-human friend. She kept every secret. She would even smile. But then this week I had to say goodbye. To say it was difficult is a gross understatement. But as I processed this on Monday I realized something. I need to be more active in the just being department.
To let myself feel and think and process. I don't do that well. I always have stuff to be done. Keeping busy is what I am good at. so I made a choice.
I actively chose to BE.
Now I was still doing something, but it was different. I hadn't picked up my art supplies to use since the end of October minus a coloring book. Not the same thing for me. I finished inktober and moved on with the holidays. Because when I slowed down and stopped the mental "doing" my mind drifted to places I didn't like it to drift.
I knew that we would be spending the day at church on Tuesday. I started thinking about all the things I needed to do and I stopped myself and said No Mary tomorrow you are just going to be still. I picked a room that was away from everything else with comfy chairs. I popped my earbuds in with our family playlist of worship music, some peppy some not so peppy and I let those words flow through me and out my brush.
Here's what happened
I started out with an idea for my April bullet journal page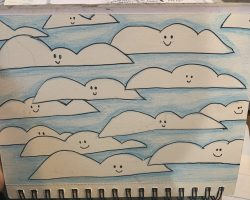 And from there I redid an inktober pen sketch from 2020. It was just a fast sketch I did originally,, but I wanted to do a better job on it this go around.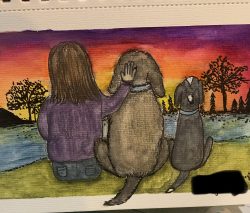 The next three are just simple little expressions. It's not ever about doing fancy art. Sometimes it's just about taking the time to use a passion God has given you. It's not about being very good. It's not about impressing other people It's about just simply being and taking part in the process, thinking, praying, and worshipping. For each person that's going to look a little different.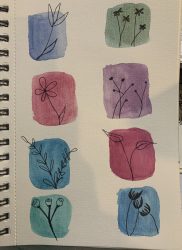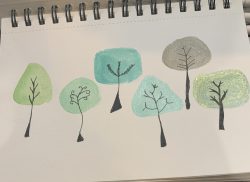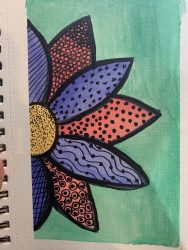 When we choose to let Jesus in to work on our heart stuff, (and yes it is our choice) he doesn't promise it will get easier- but what he will do is transform it into something beautiful. It won't be according to how I think it should be used, or not used, but rather what will bring him the most honor and glory. I just love how Jesus redeemed Sophia's story. He didn't publically humiliate her. He met her where she was at. She chose to stay and listen and in the end ran to the very people she was trying to avoid in the first place to share about Jesus. I can't imagine anything more beautiful than that!
So will you join me on my journey of giving God my broken places?
You can check out the other coffee with friends posts here