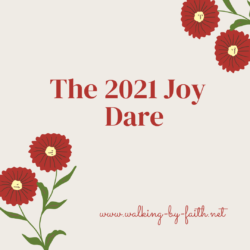 Welcome everyone to this week's Joy Dare. I don't know about you all but I am finding my mind is struggling with this spiritual discipline of being thankful for the little things. I don't know of it's just the grayness of winter or the fact that I'm just not feeling well yet so I choose to fight through all of this and stick with the discipline!
As always I cannot recommend Ann Voskamp's book One Thousand Gifts enough. It was a life changing book a few years ago when I read it and it continues to impact me today as I continue to be thankful in the little things. You can check out her book here on Amazon -This is NOT an affiliate link
You can check out Ann's website here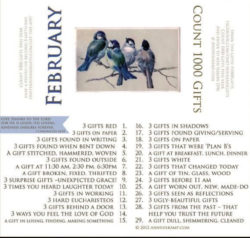 February 12th-18th 2021
February 12th- 3 Hard Euchristeos (hard gratitude)
Continuing through health concerns. It's been 2 1/2 months and they continue- not as hard but still challengingI am so thankful that through all of this I have been able to encourage others including one of my doctors.
I am thankful that through various struggles of two of our children, that they have been able to teach people to love differently
I am so thankful that through trials with friends I have been taught to trust Jesus on a completely different level, not to worry about what other people think. (This is still a massive wrk in progress)
February 13th- 3 gifts behind a door
My craft room- a room of great escape room to soak in gifts and talents
The kitchen door to outside holds quite the screen view- a place of quiet enjoyment of nature.
a hidden closet full of BOOKS!
February 14th- 3 ways you feel the love of God
in sunrises and sunsets paintings just for my eyes.
when God answers prayer – helps me to see I matter to God and that he cares for me , my heart and the things that matter to me.
when others out of the blue usually when we are hurting- reach out to show us love- they usually have no idea either.
February 15th- A gift in losing, finding, and making something
Losing (this one is so hard)- I hate losing, whether it be losing items, people or games. But losing has Taught me how to trust God for his goodness and his mercy.
Finding- It's always a gift because then my brain can rest. When I lose something my brain goes into overdrive until I find itCase in point my Cricut cords.
Making something- making something is such a huge gift for me because I am putting a piece of myself into the process and the project. It is a gift of me to the person I am making it for.
February 16th- 3 gifts from the shadows
sleeping children completely at rest
a dog faithful at my bedside
Hubby Taking care of me while I am sick
February 17th- 3 Gifts in giving and serving
smiles- what a great blessing it is to make people smile
knowing that I am the hands and feet of Jesus in meeting needs
knowing that I am able to look beyond myself and my needs and know that God was able to use me despite my shortcomings. I trusted Him and stepped out in faith
February 18th- 3 gifts on paper
My journals- because they serve as a reminder as to where I have been. it is a record of my journey
Quarter 2 homeschooling reports are accepted!
BOOKS!
Now it's your turn….
What's been your greatest joy this week?
For more of my joy dare journey check out these other posts.