Happy Rainy Monday!!!
As I look outside my window::: dark and dreary.  No moon.  no Stars. Rain running down my window.
Right now I am::: finishing this up and then heading to bed
Thinking and pondering::: I'm thinking a lot about Esther as I revisit my ladies talk I gave back in May on The Power of Your Influence.
On my bedside table:::books upon books upon books. cough drops and water
On my tv::: Faith, Love and Chocolate
On the menu for this week:::I haven't really had a chance to finish planning that Thats on the list for first thing tomorrow.
Monday – Pasta
Tuesday – Chicken and Salt Potatoes
Wednesday –
Thursday -Lasgana
Friday – Family night
Saturday – Pizza
Sunday –
On my to do list::: clean the kitchen and bathroom down stairs
What I am sewing, crocheting, knitting or creating::: Curtains for the craft room
My simple pleasure::: SaltedCaramel ANYTHING!
Lesson learned the past week::: ummmmm 13  year old boys do not handle the restrictions that come with a concussion well….at all!!!!!!!
Looking around the house::: ugh that is all
From the camera::
: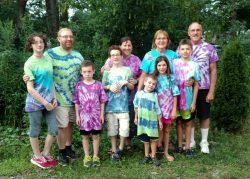 Prayer List::: friends and family going through stuff!
Bible verse, Devotional:::
Pretty much the entire book of Esther.  That's where I am camping for the next week as I write for the #write31days2018 writing challenge!
For more Happy Homemaker Monday posts Check out Diary of a Stay at home Mom!