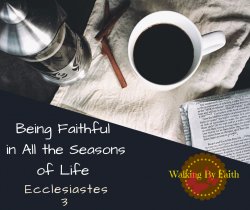 The Background: A Faithful Choice
This blog post is a long time in the making and by a long time I mean my whole life! No, I'm not kidding.   Being faithful in our relationship with God is not a wake up one day accept Jesus as your Savior and BAM! you have all the faith in the world! Oh, how I wish it were the case! But it is not.
Faithfulness is a long time in the making.  It is built out of learning, from mistakes, and blessings, miracles, and hardships.  And I want to get this out in the open that just because I am writing this post does not mean that I have somehow arrived at this amazing level of faithfulness.  It is however just the opposite.  This is my processing ground.  Working out my faith in some areas that can't really be explained.
The Struggle
I know that there are those who think that Pastor's families have some sort of unique "in" with God, but that is just not true.   I have learned much over the last few years about my humanness. My desire to know the answers NOW in my time.  The idea that things couldn't get worse than they are now.  That truth will prevail…SURELY TIS TIME.   I'm gonna pray this way- and God's gonna my answer my prayer? (which by the way he always does, but as of late I have been left standing with my hands on my head saying Lord THAT is NOT what I meant!   The whole verse that says "His ways are not our ways" Has been an ongoing theme in my life and I'm standing there wondering how and why God answered Just how I prayed and things got worse…NO JOKE!
It's in those moments my faith in God has been tested! And tested and tested…and tested again.
I'm not the type of person who stands before God and stomps my feet and shakes my fist at God and says I want this and I want it now God.  I'm am the type who passionately prays for needs and lifts up those who are hurting and I seek God's will  And I can *usually* see God even in the negative fairly quickly but there are times when all of it doesn't make sense.   This is usually when this involves justice.  And this year I have learned a very valuable lesson in this area that will I'm sure to unfold slowly BUT God's justice is sometimes slow to us.  The key is "to us". And in these moments, we have two options. We can either remain faithful and say "Ok God even if you don't_________I still will remain faithful to you and your word" or we can turn our backs on God and try to force our hands and get our own way.   Sadly I have seen too often that people do just that and in the end, they may get what they want but it costs them……their faith in God and their faith slowly becomes rooted in what they can do, or what others can do for them.
So starting tomorrow we are gonna hash out and discuss Ecclesiastes 3. So, for now, you can read it here, and then tomorrow we will jump into verse one!
Ecclesiastes 3:1-8 NIV
1There is a time for everything,
    and a season for every activity under the heavens:
2     a time to be born and a time to die,
    a time to plant and a time to uproot,
3     a time to kill and a time to heal,
    a time to tear down and a time to build,
4     a time to weep and a time to laugh,
    a time to mourn and a time to dance,
5     a time to scatter stones and a time to gather them,
    a time to embrace and a time to refrain from embracing,
6     a time to search and a time to give up,
    a time to keep and a time to throw away,
7     a time to tear and a time to mend,
    a time to be silent and a time to speak,
8     a time to love and a time to hate,
    a time for war and a time for peace.