Happy Monday to all my wonderful friends I wanted to say sorry I haven't been around in quite a while I was reluctantly forced into a blogging break as we have been running into a crazy schedule and then (GASP) my computer kicked the bucket…for good! so I had to wait for my new one!  so she is here and it has been so much fun getting aquatinted with her!   you will get to catch a glimpse of her further down!  Well I hope you have a wonderfully splendid week…I hear it is actually supposed to turn fall like by the end of this week!
So on with the Happy Homemaking
The weather:::  HOT! As in the 90's  The hottest it has been all summer long (AND it is a few days into fall)
On my reading pile::: My Bible One thousand Gifts And a bunch of others
Movies or Shows I watched this weekend::: Fixer Upper
On my TV::: A Movie on PureFlix
On the menu for this week:::
Monday Cheesy Chicken Pasta Bake
Tuesday- Beef Stroganoff
Wednesday-Chicken and Dumplings
Thursday-Grilled Cheese and soup
Friday -Beef Stew
Saturday- sandwiches before the hayride, hotdogs after
Sunday-Meatball Subs
On The To-Do List::  What's not on the to-do list.  Life has been so incredibly busy that I just kinda feel like everything needs looked after right now!!
What I am sewing, crocheting, knitting or creating:::  I am working on decorations for The Raising Generations Today Conference next month….watch for a sneak peek in the next couple of days…EEK I am so EXCITED!!!
Happening this week:::CRAZINESS…church haired. Bible studies at least three and RGT planning meeting and the list goes o and on
Looking around the house::: I'd rather look outside to be honest
From the camera:::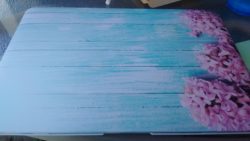 The new laptop and her lovely accessories
What I'm wearing today:::well I have had two outfits on today  Both of which included my walk for Life T-shirt and I had khakis on for little beans appointment and then I changed into blu capris when I got home
One of my simple pleasures:::  sitting outside.  I don't care what I'm doing but I love to sit outside and enjoy Creation
Bible verse, Devotional:::   This week I will be meditating on my verse for the year
Jeremiah 17:7-8
New International Version (NIV)
7 "But blessed is the one who trusts in the Lord,
    whose confidence is in him.
8 They will be like a tree planted by the water
    that sends out its roots by the stream.
It does not fear when heat comes;
    its leaves are always green.
It has no worries in a year of drought
    and never fails to bear fruit."
For More Happy Homemaker Posts Check out Diary of a Stay At Home Mom