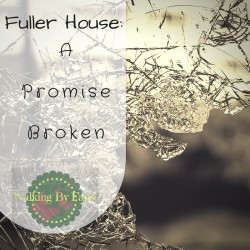 Fuller House is the 2016 reboot of acclaimed 80's-90's family TV show Full House and is based on the life of  DJ (Tanner) Fuller and her two "she-wolf" Clan members, Sister- Stephanie Tanner and life-longBFF-Kimmy Gibbler.  As a true 90's kid I was giddy in anticipation over the return of such a classic CLEAN family TV show. especially since the breed has become virtually extinct since the 90's.  I perhaps would not have been so giddy if I had not heard the interview with Candace Cameron Bure promising that the show had "THE SAME GREAT FAMILY VALUES" and that is exactly where it stayed. A promise…it's a broken promise!!
Let's Talk about the 90's show for a minute…..(TRUE CONFESSION we own all 8 seasons on DVD and we allow our children…ALL OF THEM…to watch all 8 seasons freely.  the show is played out in such a way that they didn't condone poor choices and unhealthy habits, so therefore it is easy to talk to our kids about the poor choices.
Alcohol is barely mentioned..an occasional reference to wine or champagne, and every once in a great while beer. AND you never saw them drink…ANY OF THEM.
NO references to drugs in positive light.
Except for the very first season, swearing was very minimal.
Marriage was held in high regard.
The kids were innocent and it was frowned upon for  young kids to make out.
Dancing wasn't raunchy.
AND there was no general RAUNCHINESS.
Women weren't pieces of meat to be pawed at, drooled over and treated as though they were only good for sleeping with, making out with, and obsessing over.
Now just to note Uncle Jesse fit the bill with a lot of the above but changed greatly at the entrance of Becky.  BUT I will say that uncle Jesse's behavior was only alluded to and far less disgusting than the current lifestyle of Stephanie who is definitely a downright appalling version of Uncle J.
There's a start.
So in the light of the above statements let's talk 2016 reboot.
ALCOHOL.  There is a whole lot of drinking, being drunk, loosing self control while under the influence and we aren't talking wine EITHER.  we are talking Hard stuff.  Tequila is mentioned A LOT!.   The especially disturbing part is the hard alcohol  in the midst of children's parties.  There are 2 references. One at Ramona's birthday party and another while Kimmy is setting up a party and she says, "it's a kid's party, of course there will be Booze"  There is some really intense making out, due to "having a few shots"…and really far more references and instances than the few I mentioned.  Almost every episode has some reference to alcohol and is a far cry from the original series.. (I would just like to point out that people in real life get arrested for the poor judgement of alcohol at kids parties) ARE WE FORGETTING HOW DJ AND STEPHANIES MOM WAS KILLED?  That's right, a drunk driver!    Irresponsibly drinking.  Getting hammered while watching  your own kids let alone others children, it's the very thing Danny protected his kids from…or at least tried to.
DRUGS.  There was one reference to drugs that really glorified them.  DJ was loopy after her first kiss with Matt and Stephanie asked her "You didn't find my brownies did you?"  This is a clear reference to pot brownies.   And clearly they must have been in the house…with kids present…ALSO SOMETHING THAT GETS PARENTS ARRESTED EVERYDAY!
SWEARING- it's prevalent and even comes out of the self proclaimed devout Christian's mouth…. on MORE than one occasion.
MARRIAGE. there is a reference to Steve wanting to move in with DJ.  Kimmy divorces Fernando (because he cheats on her) just to accept his engagement proposal 30 seconds later (LITERALLY).  Kimmy was married to Fernando 4 months before Ramona was born.  Kimmy offers a special rate to moms who book bridal showers and baby showers within a year of each other. It doesn't take long for DJ to recover from the loss of her husband before she is dating (AND MAKING OUT) with TWO guys, yep you read that right!!  Quite honestly there are far too many examples to keep going but you get the picture.
KIDS INNOCENCE:  Stephanie encourages kids at a thirteen year old's birthday party to "pair up" when the power goes out.  with all the references to sex, well  I'm very afraid of what season two will look like.
RAUNCHY DANCING…. all I have to say is episode 3. 2 guys….2 Girls, One of them DJ…..even if it were guy and girl the Dancing was RAUNCHY and DISGUSTING!  we actually shut off this episode and from this point on previewed every episode.  In all honesty our kids watched 3 episodes and we wish we could pull them back.
GENERAL RAUNCHINESS… yeah at every turn there is inappropriate comments,  jokes, and  down right disgusting-ness.  The last episode Jesse refers to "giving himself the Becky Special" Ummm. ewww.  it's laced throughout and almost every episode has something.
So there I've laid it out for you!   So let's talk about the 2 elephants in the room.
"same great family values"   WHAT VALUES!?!  There aren't ANY!  At all, anywhere.  In the first episode Stephanie hands each of the two older boys a thumb drive with the "hottest dance music in Europe" to which DJ asks "there isn't any drugs, sex or violence, is there? " to which Stephanie quickly grabs the thumb drives out of their hands…..HOWEVER I find the hypocritical since sex is clearly a HUGE reference throughout the show AND apparently it's ok to have pot brownies in the house…..with kids…..can you say DOUBLE STANDARD!?!  Just because it's the same family, does not mean it has the same values!
Candace Cameron Bure is an outspoken Christian…. quite honestly Im not quite sure how she could show her face on The View since the smut in her show is not any  different than the things she stands staunchly against in her world of unbelievers.  Let alone in church on Sunday.  How does she justify it all?  She has a platform… she has been given an amazing place to live out her faith, far greater than most of us will ever have.  I know that in the Christian blogging world she has a great many friends  and at most of her projects they sing her praises, however during this release they have been eerily quiet., but we as believers are supposed to hold each other accountable, so I am going to step out…..I will say it again.  THIS IS WRONG.  I could give you dozens of Bible verses to prove my point, HOWEVER I'm going to leave you with this one verse which I think stands alone in answering the questions of Christians in Hollywood:
Romans 12:2 New Living Translation
Don't copy the behavior and customs of this world, but let God transform you into a new person by changing the way you think. Then you will learn to know God's will for you, which is good and pleasing and perfect.
There is nothing that stands out different about her in this show.  NOT A THING.  If I didn't know already what she professes, I would think she is just like everybody else.  As for the reference to "church clothes" in the last episode, it's sad to say but my immediate thought was "oh they are Sunday Christians… they live like the devil all week long and look completely different on Sundays."  I'm not quite sure how that fits int0  "be holy as I am holy" (Holy means be different or set apart from everything else).
I know the rest of the world is excited that Fuller House is all set for season 2, but in all honesty, we will get rid of Netflix at the end of this month, and when Fuller House returns…we will just ignore it and go on teaching our children, that to take the name of Christ is to be an image bearer……
1 Corinthians 10:31 New Living Translation
So whether you eat or drink, or whatever you do, do it all for the glory of God.
2 comments