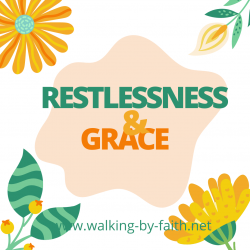 Restless if I Had to pick a word to describe me lately RESTLESS would definitely be it. Grace is the answer I found in an unlikely way. Let me explain: I can't settle my brain or heart on a task or even writing for very long before I get distracted by pretty much anything. I can't settle myself to complete a project or a chore, my devotions or read. It took me a couple of weeks to recognize this pattern that was becoming more evident. Then last week I had this idea to paint. nNothing too involved.
I whipped off two pieces pretty quickly but as I did so my brain thought, "Man I wish I could do X, Y, and Z that focused". I got to thinking about some of my favorite artists that I follow on YouTube and what they say about art block…DRAW, every day. And I began to ponder that. I sat down with my journal and stared at the blank pages and just like my blog I had no idea what I was going to write about.
Don't get me wrong I have nearly 35 blog posts on the list to be written. BUT I could write 2-3 sentences and my brain checked out saying enough is enough. and I would move on to something else. Now I will preface this by saying that there are probably 15 good reasons why this is happening right now. This isn't a normal place for me to live in. I can count on one hand the times this has happened. GENERALLY, it is because God is doing something in my heart. I have to struggle through the process. I can tell you each time God has taken something and moved me to the next step of my faith and I know that I am on the cusp of that.
A CHOICE
So what did I do? Well, first I searched a couple of websites for some one-word writing prompts. The problem was they were all based on a theme. I wanted to have more creative options so I had this spark of genius. Turn to my friends and family to give me words. And they didn't disappoint! I am still hoping to get a few more. (Feel free to drop some in the comments below.)
Next, I went back to college…no not like that. I had a lot of focus issues in college (yep just like right now) and one of the things I did was write in a notebook. It was a lot of creative writing pieces. Things that only one set of eyes besides my own have read (yep my hubby).
When I was finished I would be able to focus on school work. and it worked great then however I don't have the time I did in college I'm a wife and mom and I have lots of responsibilities so I took a cue from the Five Minute Friday prompts and gave myself a time limit. Ten minutes. I need to journal for ten minutes BUT if I am on a roll I will go past the ten minutes and go until my words are all spilled out on the pages. The first day was 20 minutes!!!!
Today was 10.
The goal wasn't a blog post for every word but as I wrote that first journal entry I knew it was a blog post in the making. The word…..
GRACE
If you have been around here for any length of time you know that Grace is an ongoing topic. My heart reacted. UGH! I write about grace ALL THE TIME….And a verse entered my brain immediately. My frustration had nothing to do with the person who suggested it, it was an indicator of my heart condition.
"My grace is sufficient for YOU" (2 Corinthians 12:9)
If you know me you know I struggle with perfectionism. I had no idea that I did until someone pointed out in March. (OUCH). I tell women all the time that no one is perfect and that they should give themselves grace and blah blah blah. I believe that but rarely did I apply it to myself.
The problem is my grace is flawed, just like me. So when that verse entered into my head I knew it was God speaking to my restless heart because at the root of my restless heart is that nasty little word, PERFECTION. My to-do list (imposed by me ) is a million miles long and I cannot choose where to start and when I do I think of something else that "more important". (ACCORDING TO WHO?)
That verse hits the nail on the head- God's Grace is Suffcient for ME. It is literally all the grace I need. I don't have to accomplish my to-do list. It will be there tomorrow (obviously there are time sensitive things). I don't have to get them all done nor do I have to work from sun up til bed time and it is ok for me to just relax.
I'm responsible for my time. I can get myself so stressed out by all that needs to be accomplished that I just check out and lose sight of what is most important.
Does this mean my restless heart is fixed?
Nope not a chance. I have written two days in a row. My focus has been better. This isn't a quick fix, this is just habit building. Having fun and relaxing instead of feeling that every post or writing experience has to be "on".
God's grace isn't just sufficient for me, it's sufficient for you too. God's grace meets us where we are. Whether it's a restless heart, a difficult decision or trauma OR in the middle of our sin. God's grace is sufficient to cover it all and so much more. SO So much more.
So I choose obedience and to rest in God's Grace and when restless heart and mind kick in I will do my very best to give it to him and Choose his grace!
Have you ever suffered from restless heart/mind? If so what did you do about it? Was God trying to get your attention or do work in your heart? Let me know in comments below!
Thanks for joining me today, I am so glad you are here! If you are new introduce yourslf in the comments below!
Blessings
Mary