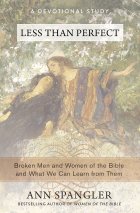 Ann Spangler writes some of the most interesting narratives of  people of the Bible .  In her Book Less Than Perfect  Ann shows how God takes those who are  "less than perfect" and uses them and their stories for His Glory. It s a truth that our churches and our world so desperately need to hear and embrace today.  The people of the Bible were  not perfect, they are sinful humans like you and I  and we all need to realize that no matter how messy our stories are God is completely capable of taking this messes and transforming them into pictures of his grace and his mercy!
This isn't the normal devotional either . So many times devotionals take creative license and go too far but this devotional is different..  Ann finds the fine balance of creative license and  truth.   Each chapter (or days depending on how you choose to use the devotional,) is broken into three sections:
The Account-  This is what actually happened in Scripture. And yes she takes creative license to fill the gaps.
The times- This section is unique because it is basically the historical background and explains why certain things for The Account Section has significance.It is so important to understand these details and it helps us to understand why the account is important to our lives.
The Takeaway- YIKES. sometimes the questions in devotionals are  lacking in substance.    In this devotional however you will quickly find yourself digging deep as you interact with the account from scripture.
I really enjoyed the book.  When I first got the book I thumbed through the pages and I got giddy because the chapters were "short" HA Just because a chapter is short does not necessarily mean it's an easy read or fast read!   I found that  scattered through the chapters were these bullets/ sidebar pieces.  Now these were horrid for me to read!   So I asked a friend to give her thoughts on it.  She said it was way difficult for her to read as well.  So I found that if I  took a picture with my phone and made it bigger I could read it BUT THAT TAKES A LONG TIME!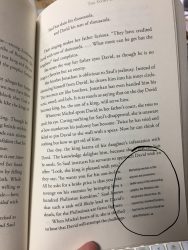 That is the only real downfall I found with the book.  I enjoyed it thoroughly!  I have not finished all the questions either mainly because they are SOOOOO in depth and took a fair amount of pondering!  BUT I really enjoy that about devotionals I want to dig deep and grow closer to Go!
I give this book four out of five Starts
Thanks to BookLook Bloggers for my free copy of this book for reviewing purposes.   All of my options given in the book are mine.  I am in no way compensated fora positive review!