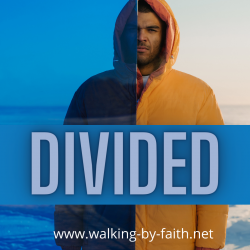 Welcome to the 4th and final post in our DIVIDED mini-series. Today we will be talking about what it means to have divided strength!
I don't know about you but somedays, weeks, months, or even years I feel like I don't have any strength left to move one foot in front of the other. Let alone love God with all of the strength I have left.
If I love God with all of what I have left what on earth am I going to use to care fore my family, home and anything else that comes my way.
We buy into lies
We convince ourselves that we con't have enough to give everyone some of our strength. And we convince ourselves that God doesn't really want "all"of my strength BUT he wants us to be good stewards of our strength being stingy with who gets some of it and who doesn't. the reality is God wants ALL of our strength. He wants us to love hime with every bit of strength we have , even if it's microscopic and seemingly non-existent.
Because it is only when we love God with all of our strength that we find the strength to keep going. Because it is God's strength.
God's wants every part of us…
This passage was never about dividing up our being….God wants every single last itty bitty part of us.
He wants all of our heart, all of our soul, all of our minds and all of our strength. He doesn't want us to be divided in any of these aspects but instead he was us to be FULLY and WHoLLY devoted to him and Him alone.
Our personal strength can be doled out between all of our friends, family,, our employer , our home, our money……but if our strength is all handed out to all of this people and things, then we are divided and we aren't loving God with all of our strength.
When I try to give little bits of my strength to everyone else I end up exhausted, worn out and frustrated because I just never seem to have enough to go around.
BUT
When I love God with all of my strength, I am enabled to do things I never thought I had enough strength to do. I have more hope, more peace, more love, more grace and more mercy that I ever could have imagined!!!
Because we are no longer striving to live our lives in our own strength, but in the strength of Jesus.
So
Love God with everything you have….all that you are and watch what he does with it. Because out of your dedication to him comes a greater love than we can ever imagine! It is hard work and takes LOTS of dedication and DEVOTION!
Thank you so much for Joining me today on this crazy Choosing Courage 100 day blogging project.. We only have 4 days left! Let me know your thoughts in the comments below and if you are new here please introduce yourself in the comments below. I can't wait to get to know each one of you!
Feel free to poke around and feel free to catch up on the Choosing Courage 100 Day writing project
Leave a comment