Good evening, I usually write these first thing in the morning but as of late we have been traveling at break neck speeds.  All I have really had timer is Homemaking….and ministry stuff!  why work so hard all the time well our vacation is just around the corner and I REALLY want to tie up loose ends before we leave.
well let's not put off this post any longer, because honestly I am ready to CRASH!
The weather::: Stormy…like big huge thunderstorms and really in the mid 70's.
On my reading pile:::  well my reading pile has dwindled.  I have finished 6 books this month and I hope to finish One Thousand Gifts and I am starting  A Woman's Call To Prayer tomorrow July holds a whole new stack BUT it's not July YET!
Movies or Shows I watched this weekend::: Fixer Upper The Donna Reed Show
On my TV:::Not a bLooming thing 🙂
On the menu for this week:::
Monday  Pasta
Tuesday Chicken and dumplings
Wednesday Chicken Broccoli and Rice bake in the crockpot
Thursday  Taco Salad
Friday Pizza
SaturdaySoup and salad
Sunday Meatball subs
On The To-Do List Bahahahahahaha the better question is what is NOT on the to-do List.  But the run down for tomorrow looks like this
Devos, blog, read 1,000 Gifts, Best Yes Bible study, A Woman's Call to Prayer, Kid's work folders (yep Im that mom who keeps er kids up on their studies during the summer), I need to write up our pack lists (everyone gets their own),I need to declutter the top of the piano, I also need to declutter the top of our stairs,3 loads of laundry, 3 loads of dishes, mop downstairs, grocery shopping AND hang out with my friend AMY!
What I am sewing, crocheting, knitting or creating::: I  created last week an art journal of sorts with a table of contents with prompts in the front.  I will be working on that for the rest of the year,
Happening this week:::All the normal church stuff with connect groups, and Bible study and so on…and also this is my last week at the pregnancy center  tip after vacation
Looking around the house:::everything is much better after todays marathon of cleaning.  I only have a few loads of laundry left. then there is our room…CYCLONE CENTRAL! yeah That NEEDS to be dealt with on Thursday and Friday !
From the camera:::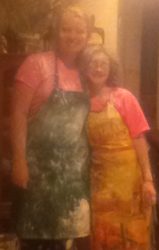 Ladybug with her friend L….they did some baking while I was sleeping….Ummmm rumor has it that they wore more flour than they used 😉
What I'm wearing today:::  Jeans and a pink collared short sleeve shirt with sneakers
One of my simple pleasures::: Summer rains in the mountains of Pennsylvania (where I grew up)  It just smells different then the mountains here in NY
Bible verse, Devotional::: Psalm 139:11-18 NIV
11
If I say, "Surely the darkness will hide me and the light become night around me,"
12
even the darkness will not be dark to you; the night will shine like the day, for darkness is as light to you.
13
For you created my inmost being; you knit me together in my mother's womb.
14
I praise you because I am fearfully and wonderfully made; your works are wonderful, I know that full well.
15
My frame was not hidden from you when I was made in the secret place, when I was woven together in the depths of the earth.
16
Your eyes saw my unformed body; all the days ordained for me were written in your book before one of them came to be.
17
How precious to me are your thoughts, God! How vast is the sum of them!
18
Were I to count them, they would outnumber the grains of sand— when I awake, I am still with you.
For More Happy Homemaker Posts Check outDiary of a Stay At Home Mom