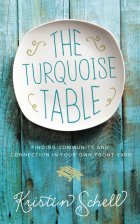 First things first, ARE YOU A FRONT YARD PERSON? That is the question you will need to answer as you read Kristin Schell's book The Turquoise Table.  In the Turquoise Table Kristin takes us on her journey to build community in her Texas town.  She chronicles he ups and downs  of being front yard people  as they began doing every day tasks at the turquoise table.  She gives practical advice on how to stock a simple basket to grab and go as you go to sit at the turquoise table , like crayons, coloring books, a can of mixed nuts, plastic cups and a water pitcher.  BUT Kristin ALSO includes family tested recipes at the end of each chapter !!  The chapters are short and sweet.  They get right to the point and there are many testimonials of others as they have embarked on their turquoise table journeys.  It was an easy and encouraging read that really makes the reader feel as though you can accomplish what is a seemingly scary risk, but with ease Kirstin melts away fears and doubts!
I  had heard about the turquoise table movement through blogging friends over the last few years but I had not been to Kristin's Blog   or read anything official concerning the concept.  And even though I had never read anything by her I had decided that my carpenter hubby was going to make some picnic tables for our outdoor space, I new one of them would bee painted TURQUOISE!!!!
When I saw I had the option to review Kristin's Book I knew I just had to and it did NOT disappoint.  I couldn't stop reading!!!  Each chapter addressed different ares the Turquoise table touched in her life…even the table wearing out…WHILE SHE SAT ON IT!!!   Did I mention she was on camera as it happened?  SOOOO FUNNY!  The turquoise table has changed her, her family, her community, TEXAS and many around the world…no I am NOT kidding!!!   Being a front yard person may not be my personality type, BUT Im certainly going to give it a whirl!!!
This is definitely 5 star rating plus some!
Thanks BookLook Bloogers for giving me a free copy of this book to review and not expecting anything in return!